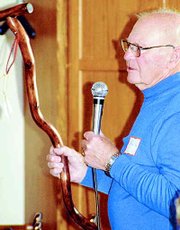 Retirement is more than shuffleboard and card games for Jim Hall and Al LaVoie.
Yesterday, the two were on hand for the monthly Nouvella Club meeting at Snipes Mountain Restaurant in Sunnyside to talk about "creative retirement" through woodworking.
Hall, a Grandview resident, is a retired administrator from the Grandview School District. For the past eight years he has perfected the art of taking discarded pieces of fruit trees and creating attractive bowls from them.
"It's not a precise art," he smiled, as he told club members how he prefers to work with green, or new, wood from orchard trees. Wood that is allowed to dry, he added, often forms exterior cracks during the woodworking process on the lathe.
After working with the wood, Hall said he likes to partially cure the wood by heating it up in a microwave for no more than 30 seconds at a time. Since the wood is green, Hall said if it cracks it will do so from the inside out rather than showing exterior cracks.
Hall told the club he works with a variety of woods from fruit trees such as apple, cherry and apricot.
He also enjoys creating bowls with contrasting colors-taking on an almost checkerboard appearance-by gluing together alternating sections of maple and walnut wood, for example, then turning the creation on a lathe for a bowl or vase.
Hall said the nice thing about using the wood in its natural state is that even nature's imperfections become beautiful after being worked on a lathe. No tree grower would want to see worm holes, but turn it into an artful vase or bowl and the imperfection reflects different textures to make the creation even more appealing.
LaVoie was also on hand for the Nouvella luncheon, and displayed the walking sticks he creates out of tree limbs. Some of the limbs, he said, come from as far away as Virginia.
Based in Pasco, LaVoie teams up with his son to create walking sticks with a decided golf theme, with golf club heads serving as a handle for the walking aid.
LaVoie also briefly noted that some of his walking sticks are created with the length of wood from a golf club.
All of which goes to show that even in retirement, new crafts and trades can be developed.
For Hall, who was a teacher before coming to the Grandview School District, it's also an ever learning hobby.
Of apricot wood, which he says is the hardest to work with because of its density, Hall laughed, "I had to go on a whole new learning curve when I started working with that."