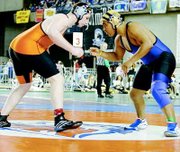 TACOMA - Four of the six wrestlers representing Mabton High School at the 2007 XIX Mat Classic in Tacoma last weekend placed in the top eight to help the Vikings to a 10th place finish this year.
Eli Perez (285 lbs.), Robert Marquez (215 lbs.), Eric Meza (112 lbs.) and Andy Torres (130 lbs.) finished in second, third, sixth and eighth, respectively.
Perez led the charge, earning his first ever State medal.
"I couldn't believe it," he said. "Not many people expected me to be in the finals. When it happened, it was unbelievable."
The path to his 'unbelievable' performance started on Friday when he beat Adam Robinett of Orting High School 6-4 in the first round.
He was behind 3-1 after two rounds of wrestling when Perez escaped from Robinett and then took him down, earning three points and tying the score at four. Perez scored another takedown in the final period to advance to the quarterfinals.
He next faced Chewelah High School's Patrick Eggleston and took charge early in that match with three takedowns and two escapes to post an 8-3 win that put him in Saturday's semi-final match against Kalama's Sean McDonald.
"He beat me earlier in the year 6-2," Perez said of McDonald, noting he wasn't expecting to avenge that loss.
Wearing a yellow wrist band, Perez had forgotten to take it off to start his match with McDonald. The refs spotted it and docked Perez a point, giving McDonald a 1-0 lead seconds into the match.
After McDonald scored an escape and took Perez down, the Viking grappler was down 4-0. Perez received a penalty point when McDonald took him out of bounds to prevent Perez from escaping and then scored an escape to cut the lead in half, 4-2. After a second stall warning on McDonald, Perez was awarded another point to close to within one. As Perez tried to score more points time ran out.
"I thought I had lost by one point because of my wrist band," he said.
What was thought to be his first lost turned into a semi-final win when the ref awarded Perez two more stall points, which gave him a 5-4 lead.
"I could hear my coaches telling me to shoot," Perez said. "I kept on shooting and the ref saw that I was hustling and gave me the points."
This set up a finals match with Trandon Benson from Royal City.
"Benson pinned Eli twice this season," Mabton Coach John Kilian said. "The last time was last week in the Regional semi-finals."
"It's kind of like going up against God's nephew," Perez said of his match with Benson. "As big, tall and strong as he is there's nothing you can really do. You just go in and give it all you've got."
Benson won the match 11-3 but Perez feels since Benson didn't pin him it was a win in itself.
"I wrestled him better this time," Perez said. "I scored on him this time."
Perez finished his season with a 31-6 record.
A favorite to win the 215-lb. State title this year, Mabton's Robert Marquez was shocked when he lost for the first time all season in the quarter-finals.
After coming from behind to pin LaCenter High School's Cody Ward in the opening round at State, Marquez lost to Castle Rock's Mike Collins 10-9 and was sent to the consolation bracket.
Marquez got off to a 2-0 lead before Collins reversed him and then caught him on his back for a near fall to go up 5-2. They both traded reversals which made it 7-4 in Collins' favor.
Exchanging points, the Mabton Viking could never regain his lead. As the final seconds ticked off the clock a stunned Marquez looked around with a thousand yard stare, absorbing his first loss in 38 matches this season.
"It's tough to go undefeated and lose at State," Kilian said. "It's even tougher to fight that feeling of complete frustration and have to come back and wrestle in another 45 minutes."
In the consolation match on Friday night, Marquez beat Gabe Wishon of Forks High School 8-2 to advance to the medal round on Saturday.
He squeaked by John Swideck of Tenino High School and then beat Izzy Torres of Nooksack High School, a wrestler Marquez thought he might face in the championship match.
This set up a rematch with Collins for the third and fourth place medals. After Marquez beat Torres, he vowed he would beat Collins in the rematch.
He came out fired up from the start and built up a 9-2 lead and hung on for the victory over Collins, 9-6.
"I wrestled smarter and didn't make the mistakes I did the first time," Marquez said of his win. "He was the only guy who beat me this year and it was the high note of my season to be able to beat him in the rematch. Avenging that loss, it's like it never happened."
The win gave Marquez a 41-1 record this season and earned him his second straight third-place medal at State.
Meza, an alternate at State, made the most of his chance by earning a sixth-place finish in the Tacoma Dome. Going 25-16 on the year, Meza pinned Castle Rock's Blake Adams in 1:15 in his first match on Friday.
"He looked good," Kilian said. "He took him down and almost pinned him immediately but the guy was able to fight from his back for a while before Meza was able to get the pin."
In his second match of the day Meza was pinned by Sam Halvorsen of Lake Roosevelt High School in 3:22.
"Halvorsen is a good leg rider," Kilian added. "He slipped the leg in on top and twisted Meza. He did a good job of it because Meza wanted no more of it."
The loss sent the Mabton 112-pounder to the consolation bracket, where he pinned Kyle Diaz of Orting in 3:55, sending Meza into the medal rounds on Saturday.
On Saturday Meza beat Jesse Guerra of Warden 8-6 in overtime, setting up a match to get into the third and fourth place bracket.
"That's an alternate for you," he shouted as he left the mat pumped up from the win.
He next faced Heriberto Tereza of Highland High School, but succumbed to him by fall in 3:34.
"Tereza is always moving," Kilian explained. "He was too much for Meza."
The loss dropped him into a match for fifth and sixth place and Meza got pinned in 4:13 by Parker Williamson of Castle Rock.
Torres placed eighth for the Vikings, earning his third straight State medal. Going 28-9 on the year, he started this year's State appearance with a pin over Kody Lindeman of Castle Rock in 5:09.
Torres then lost his second match on Friday when he was pinned by Jeff Fetter Jr. of Orting in 4:59.
"Andy was down 7-4 at the time of the pin," Kilian said. "He was within striking distance, he just got caught."
Dropping down to the consolation bracket, Torres beat Lakeside's Chase Koch 5-3.
"This kid was tough," Kilian added. "It wasn't easy. It was a good, hard fought match."
A loss to Wahluke's Eric Valdez put the Viking 130-pounder into the seventh and eighth place match, where he lost to Royal City's Omar Avelar 4-2 in overtime.
Mabton's Adrian Magana (22-20) and Damien Marquez (26-15) lost their first two matches on Friday and were unable to advance to Saturday's medal rounds.
"We did well at State," Kilian said of his team's top 10 finish. "We've got several guys coming back."
He said losing two guys who placed at State the last three years (Marquez and Torres) will leave some big shoes to fill, but said he is excited about Perez's and Meza's finish.
"We're sitting good for the next couple of years," he added.