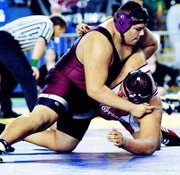 TACOMA - Joe Rodriguez overcame a disputed first-round loss to lead Grandview to a 19th place team finish at the State 2A wrestling tourney held last weekend in the Tacoma Dome.
Rodriguez lost 6-5 in overtime to eventual 285-lb. champ Steven Ayers of Sehome in his opening match. But that was after Rodriguez was told by officials he had initially won the contest.
To confuse matters more, Grandview Coach Jeff Sevigny noted that he later learned Rodriguez actually defeated Ayers in regulation, but a two-point penalty against Ayers was only counted as one point and resulted in a tie.
"It should have been settled in the third period," said Sevigny. "The official that refereed the match later apologized and said he may have taken a state title away from Joe."
Because the mistake wasn't noticed until Saturday, a full day after Friday's opening match, Sevigny said there was no way to contest the outcome.
Facing a must-win situation in the double-elimination tourney, Rodriguez clinched a medal by pinning his next two opponents last Friday, Ryan Parsons of Tumwater and Jeremy Foulds of Hoquiam.
That set up a Saturday run of three consecutive wins for Rodriguez in claiming third-place honors at State, Grandview's highest individual finish this year.
Rodriguez opened Saturday with a 4-0 win over Zak Sadewasser of Washougal. He followed that with consecutive pins over Dustin Howard of Toppenish and Jordan Little Bull of Wapato in the consolation semifinals and finals, respectively.
"A lot of guys would have just folded up after losing the first match the way Joe did," Sevigny said in praising the sophomore's persistence in sweeping to five consecutive wins for third place. "Joe grew up a lot this year."
Earning a state medal for the second consecutive year for Grandview was Fernando Godinez, who was fourth this past weekend in the 145-lb. weight class. Godinez was also fourth at last year's State 2A competition.
Godinez had a much easier ride to the medal round, cruising to wins in his first two matches. After knocking off Lynden's Jake Greiss 14-4, the Grandview junior then cruised 6-1 over Chris Kilcup of Fife.
Those wins advanced Godinez into the semi-finals, where he was edged 8-5 by eventual champion Tanner Weiks of Tumwater.
"Fernando led early," Sevigny said. "It was a match within reach." The coach noted the difference was that Weiks, who placed third at State the previous two years, was able to score points off of Godinez's takedown attempts.
Godinez responded with a 7-1 win over Ben Morgen of South Whidbey to advance to the consolation finals, where he lost 3-1 to McKray Jones of Bellingham.
Grandview's lone senior to advance to State this year, Jacob Robillard in the 171-lb. weight class, opened Friday's action with an 11-4 loss to Kyle Knutson of Burlington Edison. Knutson went on to be the State 2A runner-up.
"Jacob got a bad draw," Sevigny said. "He had to open against a kid that's already beaten him this year."
Even so, Sevigny said that Robillard led Knutson early on before giving way late in the match. "I told Jacob afterwards that he wrestled four great minutes out of a six-minute match."
Like Rodriguez, the opening loss meant that Robillard would have two win twice on Friday to clinch a spot in the medal-round.
He nearly made it.
Robillard, competing at state for the third consecutive year, edged Ethan Grable of Deer Park by a score of 5-4 to come within a win of placing.
"The other kid got ahead early, but Jacob kept after him," Sevigny said of the win.
In the do-or-die match to advance to the medal round, Robillard was out pointed 8-2 by Niels Brisbane of Lynden.
Sevigny said he was pleased with the 19th-place team finish, considering that Grandview only had three wrestlers competing at State.
The Greyhounds scored a total of 35 team points, one behind CWAC foe Quincy. The top CWAC finish was turned in by Toppenish in sixth place with 78.5 points.
W.F. West of Chehalis won the overall title in the 54-team field with 126.5 points.
The Greyhound grapplers also gained an appreciation for just how tough the CWAC was this year, as six league teams placed in the State 2A top 20 this year.
"Year in and year out, the CWAC does real well," said Sevigny.
As for this year, Sevigny noted, "It was a growing year for us. With Robillard the only senior at State we were a really young team."
The coach has an eye on next year, too.
"A lot of young kids (from the Grandview wrestling program) were there watching at State and hopefully learned something to inspire them for next year," Sevigny said.
After all, that's where Rodriguez was this time last year, at the State tourney watching his older brother earn a medal for the Greyhounds.
Who knows, maybe one of Grandview's state "watchers" this year will take the podium, like Rodriguez and Godinez did this season.
Sevigny and company hope so, with the coach noting, "They're already looking forward to next year."