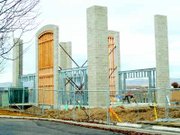 New construction starts in Sunnyside for the month of January were valued just a shade under $3.5 million, at $3,499,053, to be exact.
More than three-fourths of that value-nearly $2.8 million-involved a duplex development, Parkwood Twin Homes, at 508 Cemetery Road.
The project, to be built by Vaughn Bay Construction of Fircrest, Wa., includes one single family home, a recreation building and 11 duplexes.
Total value of construction for the development is $2,798,888, and the Sunnyside city coffers received $27,795.21 in permit fees from the project.
There was one other new single family home that received permits in January, Aho Construction's Harvest Village Phase II on 1609 S. 13th St. That home is valued at $207,470.62. Sunnyside received $2,878.36 in fees for the new project.
The Harvest Village home put new residential construction over $3 million for January, with just over $30,000 paid in permit fees to the city of Sunnyside.
The most valuable new construction start in January is a new commercial building at 2576 E. Yakima Valley Highway. The site, which is scheduled to be a two-story office building with 2,880 square feet, is valued at $263,779. A total of $3,159.55 in fees was paid to the city of Sunnyside for the project.
In other new construction, the Sunnyside Valley Irrigation District received permits in January for a 120-foot tall radio tower to be installed at 120 S. 11th St.
The irrigation district paid the city $900.54 in permit fees for the tower, which has a valuation of $40,000.