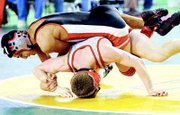 TACOMA - Steven and Isaac Romero led a contingent of five Sunnyside wrestlers with second place finishes at State to help Sunnyside place ninth at the 2007 XIX Mat Classic in Tacoma last weekend.
"It's pretty gratifying to come away with a top ten finish," Sunnyside Coach George Paulus said. "Especially when you look at the teams you go in with."
The Romero brothers placed second, followed by J.T. Gonzalez (125 lbs.) with a fourth place finish and Ricardo Rivera (119 lbs.) with a seventh place finish. Sunnyside's Angelo Salazar went 1-2 at the tournament and missed making the medal round at his first ever State appearance.
Steven Romero (103 lbs.) breezed through his first two matches on Friday to earn him a spot in the medal round on Saturday.
He beat Patrick Benson of Yelm High School 10-2 in the first round.
"Steven took him down twice and put him on his back in the first round and was able to ride it out," Paulus said. "The kid got better as he wrestled Steven but he (Romero) wrestled a pretty good match."
Romero then blanked Sedro Woolley's Trent Morgan 11-0 to advance to Saturday's matches.
"The kid was so much taller than Steven," Paulus said. "About four inches but Steven was quite a bit stronger than him and he just overwhelmed Morgan."
On Saturday, Romero beat Billy Richardson of Bremerton High School in the semi-finals but not before offering a little drama.
Romero was down 4-0 to start the third round.
"He was in dire straits," Paulus said.
Paulus said after Richardson got a takedown in the first round and then a reversal in the second, he started to tire.
Romero started in the down position to start the third round and was able to reverse Richardson and caught him on his back. After Richardson got himself back into a base position Romero was able to put him on his back, tying up the match at four. He then held him in that position and was awarded two points for a near fall after time expired.
This set up the championship match with Justin Purves of White River.
"Steven wasn't really aggressive with this guy," Paulus said. "He couldn't keep up with the kid's movements."
Purves scored a takedown in the first round and then an escape and another takedown in the second round. Romero was down 7-0 in the third round but couldn't get away from the White River wrestler, who pinned Romero in 4:35. The loss gave Romero a 36-6 record on the year and a second place finish at State, his first time at the tournament.
His brother Isaac (40-1), wrestling at 112 lbs., also had a pretty easy Friday at the State tournament. He beat Michael Turner of Auburn-Riverside 12-2 in the first round.
"Isaac started off really well," Paulus said. "He got two takedowns in the first round and then rode him the whole time."
In the quarter-finals Romero beat Kyle Heath 5-0.
"I had heard this guy was pretty tough," Paulus added. "He was strong and created some problems for Isaac. He ended up third."
Romero used two takedowns and an escape and then held Heath scoreless for the win.
On Saturday Romero beat Jason Gray of Enumclaw High School 9-8 in the semi-finals.
"This was a gutsy match on Isaac's part," Paulus said. "Gray got a takedown and a near fall right off the bat. Isaac was down 5-0 15 seconds into the match."
Romero made his comeback by getting an escape and then a takedown to come out of the first round trailing 5-3.
"That was very big," Paulus admitted. "Isaac understands what he needs to do and without thinking about it he does it."
To start the second round Gray reversed Romero to go up 7-3 before Romero scored an escape to make it 7-4. He then took Gray down again to close to 7-6. After an escape by Gray made it 8-6, Romero tied it up with another takedown at 8-8. To start the third round Romero chose the down position and scored an escape to go up 9-8. The two wrestlers then faced off the rest of the match on their feet and Romero escaped with his 40th win of the season.
In the finals he faced Sedro Woolley's Derek Crouter, a two-time defending State champion.
Crouter scored a takedown in the first 30 seconds of the match for a 2-0 lead. That's where the score remained.
"They didn't make him (Crouter) wrestle," Paulus said of the officials refereeing the match. "He just held onto everything. The officials seemed not to notice there was a lot of stalling on his part. They were supposed to be the best officials in the tournament."
In the third round Crouter performed an illegal move by locking his hands together around Romero when they were on the ground but the officials failed to call anything.
"I know the other official saw it," Paulus said, at a loss as to why the illegal move wasn't called. "It was puzzling. Just holding onto body parts is not wrestling. There was no movement on his part.
"It wasn't so much the calls they made, it was the calls they didn't make. Isaac did everything he could do win this match."
Paulus didn't blame Crouter for the bad officiating.
"He wrestled a smart match," he said. "He got his points early and was able to hold on."
Romero tried time and time again to escape from Crouter but the Sedro Woolley wrestler would grab his foot and then hang on for dear life, not letting Romero get free. Paulus said even one penalty point would have changed the strategy of the match but none was forth coming and Romero lost 2-0, resulting in his first and only loss of the season.
Gonzalez earned himself a fourth place finish in what Paulus described as a pretty tough weight class (125 lbs.).
"He came out of this pretty well," Paulus added.
Gonzalez was able to beat Nick Ricigliano of Peninsula High School 14-0 in the first round on Friday.
"He was just physically more powerful than him (Ricigliano)," Paulus explained.
Gonzalez used a takedown and a near fall in the first round to build a 5-0 lead. In the second round he scored another takedown and two near falls. An escape and another near fall in the third round sealed Ricigliano's fate.
"It was a pretty good way to begin," Paulus said. "J.T. looked pretty good."
Gonzalez then scored another major decision when he beat J.J. Reiser of Ferndale 13-2 to roll him into the semi-finals.
It was here Gonzalez suffered his first defeat of the tournament on Saturday morning. He lost to Jarad Miller of Kelso High School 8-3.
"J.T. just didn't have an answer for his (Miller's) three takedowns," Paulus said.
Moving to the consolation bracket, Gonzalez beat Mt. Spokane's Justin Scott, pinning him in 2:20. He was up 2-0 at the time and caught Scott in a cradle to get the fall.
This set up a match for third and fourth place with Josh Lasick of Auburn-Riverside High School. Lasick, a cradling machine, according to Paulus, was able to catch Gonzalez four times in the match. He scored 11 points against Gonzalez in the second round on his way to a 14-2 win. The loss put Gonzalez's record at 37-6 for the season.
Rivera got stunned in his first match by eventual finalist Sam Bauer of Enumclaw High School, 12-5.
Rivera, wrestling at 119 lbs., was able to stay within sight of Bauer in the first two rounds, trailing 5-3 to start the third.
"Bauer kind of woke up," Paulus said.
After escaping from Rivera, Bauer was able to score three takedowns in the final round to get the win.
"We knew he was pretty good," Paulus said.
The loss dropped Rivera into the consolation bracket and he needed two wins on Friday to advance to Saturday's medal rounds.
He beat Jordan Reimer of Kelso High School, pinning him in 3:01, and then pinned Eric Tuttle of Squalicum in 2:58 to advance to Saturday's matches.
In his first match on Saturday Rivera lost to Wayne Horton of Enumclaw 12-10, but then scored a major decision over Ryan Makela of Mt. Si to place seventh overall.
Rivera finishes his season at 31-8.
"Ricardo got his third straight State medal," Paulus said. "He finishes with over 100 wins in his career."
Salazar, wrestling at 285 lbs., started off his first ever State appearance with a loss to John Raby Jr. of Everett High School, getting pinned in 3:19.
He was able to shake off that loss and score a fall against Senio Kelemete of Evergreen High School in 3:48 to set up his third match on Friday. There he lost to Sean Harvey of Auburn 5-4 in a close match.
"He did well," Paulus said. "He made it to State and that's no small feat these days.
"Overall we did well," Paulus said of his team's top 10 finish. "They deserve to be congratulated."