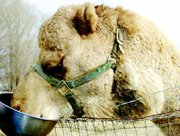 GRANDVIEW - Serious concern is being expressed for a camel that lives on Tear Road near Grandview. More than just a novelty, Merlin, as he's called, is running out of folks to care for him.
Neighbors Ruben and Frances Gonzalez, who live across the street from Merlin, recently called the Daily Sun News with concern for both Merlin's behavior as well as a wound on his neck.
Merlin is so fond of Ruben, he's worn out a patch of grass at their meeting spot. Ruben regularly feeds Merlin and enjoys bringing Merlin treats, like cookies and fruit. But Ruben's health is declining, said his wife, Frances, and she doesn't want Ruben caring for Merlin anymore.
"I'm scared for my husband to keep packing the water over there. But he's not going to let anything happen to that camel. Not even if it kills him."
That's exactly what she's afraid of. Ruben, who in the not to distant past had open heart surgery, found himself in the emergency room about 10 days ago, going into kidney failure as a result of heart medication complications. Ruben's been packing a 5-gallon bucket of water to Merlin on a daily basis, not to mention twice daily feedings.
In the meantime, says Frances, "He's going to the doctor every other day."
The couple is worried about a sore on Merlin's neck. They say the camel's owner, Lynn Henry, hired a traveling veterinarian about three months ago to cut open a two-inch hole to allow what appeared to be a cyst to drain. They say the wound hasn't closed and it's still draining a nasty, mayonnaise type substance. "It smells worse now then when they cut it open," Frances said of the stench. And the husband and wife both agree that Merlin's been acting strangely, which they attribute to not feeling well because of the sore.
Merlin's owner, Lynn Henry, is disabled and living out of the area. After receiving a phone call from the newspaper and a report that Merlin appeared to be swelling above the neck, Henry came down the very next day.
She reported that Merlin's acting funny and his head is swollen because the dromedary camel is in full rut. This causes Merlin to inflate a sack of skin out of the side of his mouth, which has the appearance of a pink balloon.
Henry said Merlin's behavior will go back to normal as soon as his mating season passes, but that in the meantime his behavior can be unpredictable, as the Gonzalez's reported.
The Gonzalez family also expressed concern regarding a whistle-type chirping noise that Merlin makes when he runs, which he doesn't usually do. The family believed this to be from the open wound on his neck. Henry said that, too, is a sign that the male camel is in rut and that the noise isn't coming from the wound.
Henry explained that she was told by the vet that as long as the walled cyst continued to drain, Merlin would be fine.
For personal health reasons both Henry and the Gonzalez family are eager for Merlin to find a new home. Henry has had a sign posted at Merlin's pasture on Tear Road for several months, informing passers-by that she must sell the camel.
She bought Merlin, age 11, for $7,500 when he was just 18-months old. She said that he's expected to live to be 60 to 80-years-old.
Henry said that Merlin can be used for racing, providing wool, used to breed, pulling a plow or wagon and he's great for cleaning up a pasture. She said that he'll prune everything up, even rose bushes.
She's willing to sell him at a loss to a good home for $5,000. But, she says, she's adamant that it must be a good home.
"I'm just not going to sell him to a fad buyer," she said.
To learn more about the camel, call Henry at 509-949-2764.