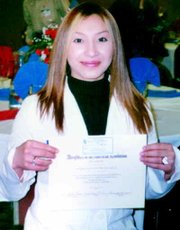 YAKIMA - The Daughters of the American Revolution (DAR) held its annual scholarship and financial aid award banquet at the Red Lion Inn in Yakima on Feb. 10.
During the banquet, PRIDE High School senior Claudia Garibay was honored with the Good Citizen Award by DAR.
Nominated by the staff at PRIDE, Garibay was recognized based on her overall efforts in being a good citizen at her school. "She is an all-around good student who is raising two children. She is helpful to her teachers and fellow students. She is on track to graduate and plans to attend college to pursue a degree in nursing," said PRIDE teacher Teri Alvarez-Ziegler, who attended the banquet with Garibay.
Alvarez-Ziegler said this is the first time a PRIDE High School student has received an award from DAR.
DAR supports schools for the underprivileged with annual donations exceeding $1 million. It supports the men and women of the U.S. military through programs such as Project Patriot. Beginning in 2005 Project Patriot began supporting severely wounded active duty military personnel at Landstuhl, Germany Medical Center. Personal care and entertainment items are sent to the medical center through Project Patriot. Also, the group sends care packages, letters and other items to troops both overseas and at home.
Other Lower Valley students recognized by DAR earlier this month include Sunnyside High School student Hannah Paulakis, Sunnyside Christian High School student Tori VanWingerden, Grandview High School student Allison Grow, Compass High School student Karyna Rodriguez, Mabton High School student Sara Sosa and Focus High School student Angela Lupercio.