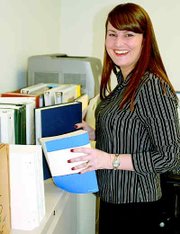 Wapato native and resident Jordan Arreola is the city of Sunnyside's new finance director.
She previously held the same position in Toppenish for just over two years and before that worked in management for WSU's research facility in Prosser.
Arreola started the Sunnyside position on Jan. 29, and her career path from Wapato to Sunnyside required a detour to Seattle, where she went on to earn a Masters of Business Administration degree from the University of Washington. At the UW she also studied finance, international business, e-business and management.
While in Seattle, Arreola worked for the Arthur Andersen business consulting firm, where she helped implement new software for the company's office.
Arreola feels all of that experience and training will serve her well here in Sunnyside.
"It's an opportunity to move into working for a larger city," she says, noting the responsibilities in Sunnyside are similar to those she had in Toppenish.
Arreola's responsibilities include working with the city's departments in drafting a budget for each year.
Though the 2007 budget is already in place, Arreola said she is working to meet a deadline coming up this May in the form of the city's annual report that is submitted to the state auditor's office.
Her software experience will also be helpful in Sunnyside as the city over the past year or two has implemented new accounting programs.
As Sunnyside's finance director, Arreola is also responsible for overseeing utility billing, supervising the city's municipal court, financial reporting and assisting with risk management.
Arreola's experience and education were the top factors in hiring her, City Manager Bob Stockwell stated last December when her hiring was announced.
"It's comforting to know we could find someone with such high credentials in a short recruiting time," he said.
He also stated then that Arreola's familiarity with the Yakima Valley is a plus.
"We are different from the west side of Washington. Our economy is different, our demographics are different," Stockwell said.
Just as she is at home in the Lower Valley, Arreola is also feeling right at home in Lower Valley government.
She has worked with Grandview's city administrator Scott Staples, who held the city manager position in Toppenish.
While at Toppenish, Arreola also worked with Deborah Estrada, who is now Sunnyside's city clerk.
"That's really nice," Arreola said of having a familiar face at the office on her first day at Sunnyside City Hall. "Deborah and I worked well together in Toppenish and I'm delighted to be working with her again."