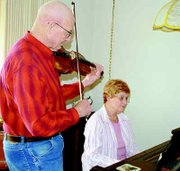 GRANDVIEW - Between them they've been making music for more than 130 years.
As a married couple, Jim and Jean Corliss of Grandview have been making beautiful music together for 45 years.
Jim, 72, plays the violin. Jean, 71, plays the piano. Both began playing as youngsters. In fact, Jean said she started picking out tunes by ear when she was only three-years old.
Both are classically trained on their respective instruments.
Jim was a violinist with the WSU symphony orchestra while in college and in high school before that. Jean also played piano in high school, before learning to play the organ during college and for church services.
Both are careful about the terminology they employ for their respective stringed instruments.
"I'm a violinist, not a fiddler," Jim laughed. "I do enjoy fiddle music, I just don't know how to play it."
As for Jean, she enjoys playing the pipe organ in particular, noting that she has played at several churches in Yakima.
But it wasn't music that brought them together, rather family members that set them up to meet after they had each graduated college.
"Jim grew up in the country and I grew up in the city," Jean smiled. "Then his family moved to the city and mine moved to the country."
The couple has gone on to play in a number of local theatrical productions, with Jim playing the violin for about 40 years for the Valley Theater Company's musical comedy orchestra. He has played during performances of "Guys and Dolls" and "The Sound of Music" for example.
He was also the featured violinist during a production of "Fiddler on the Roof". Jim smiled as he recalled the experience, "I'm not a fiddler, but I played the violin in a fiddler style."
Jean has played the organ for Grandview United Methodist Church since 1968. She also has played the piano for several productions by the Over The Hill theatrical group, such as "Lil Abner," "Bye Bye Birdie," "Annie" and, most recently, "Cinderella."
Their musical interest is also expressed by their work on behalf of the Lower Valley Community Concert series. "They do a good job of bringing in interesting artists that appeal to a wide audience," Jean said of the series which is now in its 60th year.
Jim and Jean have seen their musical interests passed down to future generations, as son Kevin plays the banjo and their late daughter played the piano. They have grandchildren who are learning to become musicians as well.
With all this musical background, does it help the heart strings for Jim and Jean to both play stringed instruments?
Does playing music help the Grandview couple make beautiful music together?
Jim reflected for a bit, then laughed, "It sure doesn't hurt!"