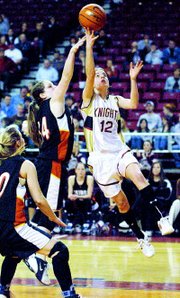 YAKIMA - The first-ever 1B State girls basketball tourney started at 9 a.m. today, but the Sunnyside Christian girls started a few minutes later in rallying for a 34-32 win over Garfield-Palouse in today's State opener at the SunDome.
The Lady Knights were held scoreless for the game's first six minutes, trailing 8-0, before finally warming up.
"We were playing scared," Coach Al Smeenk said. "I don't know why we were so terrified."
The Sunnyside Christian girls found the courage to close out the quarter with a 4-to-1 run to end the opening stanza down 8-4.
The Lady Knights pulled to within 11-10, before Garfield-Palouse jumped out to a 16-10 lead with less than four minutes remaining in the half.
Sunnyside Christian again found an extra ounce of gumption, going on a 17-6 run that vaulted them into a 19-18 halftime lead and a 27-22 third quarter advantage before the Vikings could answer.
The Knights' Melanie Van Wingerden capped the run with a blocked shot at one end, then driving for a coast-to-coast layup the other way.
With both teams playing hands-in-face defense, the Knights managed to never look back. That's despite some trouble with ballhandling in the game's late stages.
Smeenk credited part of that to the Vikings zone defense in disrupting Sunnyside Christian's passing lanes.
But he also blamed his team's decision making for some of the woes that saw the Lady Knights turn the ball over 22 times.
"Decision making has been a problem for us all year," he said. "We'll have to do better than that when we play tomorrow."
Speaking of tomorrow, to get into tomorrow's 4 p.m. quarterfinal contest the Sunnyside Christian girls had to hold on for dear life.
The Lady Knights led 28-26 heading into the fourth quarter, and pushed the margin to 30-26 with four minutes to play thanks to a feed from Tori Van Wingerden to Melanie Van Wingerden.
The Vikings rallied for a bucket, then recovered one of those pesky Sunnyside Christian turnovers to make it a 30-30 game with three minutes to play. The game tying bucket was scored by Garfield-Palouse's Courtney Shoemaker, who knocked down a game-high 14 points.
Back came Sunnyside Christian, as Jacqui Roberts dribbled the length of the court for two points and a 32-30 lead.
The Vikings knotted the contest at 32-all, setting up Sunnyside Christian with the ball with just 32 seconds to play.
After the Lady Knights ran down the clock, the girls ran Smeenk's play call to perfection, feeding the ball into six-footer Andrea Schutt, who delivered the game-winning bucket as she was bumped by an opponent.
Garfield-Palouse (14-10) had one last shot with two seconds left, but it caromed harmlessly off the rim, sending the Lady Knights on to the floor rejoicing.
Melanie Van Wingerden led Sunnyside Christian with 12 points and 12 rebounds to go with three steals. Schutt scored eight points, including the game winner, and collected six boards and blocked three shots. Tori Van Wingerden added seven points and Roberts tallied four.
Sunnyside Christian (20-3) will play either Inchelium or Taholah into tomorrow's quarterfinal match-up.