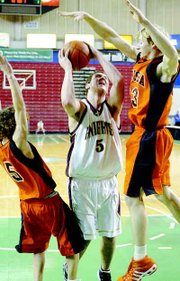 YAKIMA - It wasn't the silky smooth, lace 'em up and go execution in which the Knights have become accustomed. Regardless, Sunnyside Christian turned in a dominating performance in its 1B State tournament opener Wednesday evening, roaring past the Odessa Tigers, 49-29.
The victory propels the Sunnyside Christian boys basketball team (23-0) into Thursday evening's 7:30 p.m. quarter-final game against the Lummi Blackhawks (12-11). Lummi was a 66-62 winner over St. John-Endicott in Wednesday's opening round.
Last night's game plan, early on, was for Sunnyside Christian to get the ball inside to its big men.
"Our scouting report said Odessa was soft inside," said SCHS Coach Dean Wagenaar. "They weren't. Odessa did a good job of making us earn everything inside.
"That's the biggest thing that surprised me, how physical they were inside. Always two hands and a hip on whichever of our players had the ball, forcing them out of the paint," said Wagenaar.
As tough as the Odessa defense was inside the key, 6'4" senior Cole Van de Graaf was up to the challenge. The Knights' big man poured in nine points in the opening half in leading Sunnyside Christian to a relatively low scoring 26-17 halftime advantage. It probably should have been a double-digit lead for the Knights at intermission, but Van de Graaf was unable to take advantage of the fouls committed against him, only hitting 1-of-6 from the charity stripe in the opening half.
Aaron Van de Graaf, the Knights' leading scorer this season, had a relatively quiet first half, only contributing to the cause with five points.
Unbeknownst to many, though, the 6'1" senior was nursing a heavily wrapped, sore ankle that he injured in practice this past Monday. "You could see he couldn't get a lot of lift when he went up for his shots," said Wagenaar, noting the team's leading scorer might have been trying to force the action a bit too much in the early going.
"The second half Aaron emotionally got himself back into the game. He let the game come to him," said Wagenaar.
Doing so paid dividends for the Knights, as he chipped in four points in the third quarter, then exploded for 10 of Sunnyside Christian's 14 fourth quarter points. Van de Graaf finished with a game high 19 points. He also shared team high assist honors with Joel Koopmans, each dishing three. Van de Graaf and Koopmans also had team highs of three steals apiece.
The 6'1" Koopmans, only a junior, was one of the keys, as well, in defeating Odessa. He shoved in nine points for the Knights, and came away with a game high 13 rebounds, six of them careening off the offensive glass.
"Joel played very well last night," said Wagenaar.
As did 6'2" senior Brandon DeVries, who lit up the scoreboard for seven points and totaled a game best four blocked shots.
"Two of the baskets Brandon made were very big, coming when we really needed them," said Wagenaar. "He also played some pretty good defense."
Speaking of the defensive side of the ball, no one probably turned in better efforts than the duo of Nick De Jong and Lucas Brouwer. The two Knights were assigned to rotate defensive coverage on Odessa's Drake Costlow, after he nailed three shots from treyland in the opening half. The 6'0" De Jong, who started out defending Costlow in the modified box-and-one the Knights switched to, totally shut down the Tigers' top scorer this season.
"Nick's defensive play on the Costlow kid set the tone for the rest of the game," said Wagenaar. "When Lucas (Brouwer) went in to cover him, it was just more of the same."
After switching to the box-and-one midway through the second quarter, Costlow didn't score again. In fact, the second half Costlow, who averaged nearly 15 points a game this season, only got off three shots, missing all three. Costlow settled for the 11 points he scored early on.
Sunnyside Christian found itself up by 17 with about six minutes to play last night, opting at that point to spread the floor.
"We slowed it down," said Wagenaar, "Taking some time off the clock."
The 49 points the Knights scored was a season low, but according to Wagenaar it isn't about looking flashy or pretty this time of the season.
"When you're at State, it's only about advancing to the next day," he said.
In looking ahead to tonight's game against Lummi, Wagenaar said his club will need to play disciplined basketball. "We'll be looking to pound it inside," he said. The Knights defeated Lummi in last year's State tournament by a 35-22 score.
Sunnyside Christian, ranked No. 1 in the 1B state poll heading into this week's State tournament, is three games away from the first ever undefeated season in school history.
Wagenaar said his team isn't looking that far ahead. "Lummi, Lummi, Lummi....that's all we're talking about right now."
Odessa 9 8 4 8 -29
Sunnyside Christian 12 14 9 14 -49
FG-Odessa 10/40, Sunnyside Christian 19/43. 3-pt.-Odessa 4/14 (Drake Costlow 3/8), Sunnyside Christian 3/13 (Joel Koopmans 1/2, Jesse Brouwer 1/2). FT-Odessa 5/8 (James Glenn 5/8), Sunnyside Christian 8/18 (Aaron Van de Graaf 4/6, Joel Koopmans 2/2). Rbds.-Odessa 28 (James Glenn 8, Kendall Fisher 7), Sunnyside Christian 31 (Joel Koopmans 13). TO-Odessa 23, Sunnyside Christian 15.
Odessa: James Glenn 9, Scott Strange 0, Bryce Todd 7, Drake Costlow 11, Kendall Fisher 0, Matt Cronrath 0, Ryan King 0, Aaron Bruya 0, Travis King 0, Josh Allen 0, Trevor Smith 2, Luke Palmer 0.
Sunnyside Christian: Joel Koopmans 9, Adrian Van Oostrum 0, Cole Van de Graaf 11, Danny Van Boven 0, Jesse Brouwer 3, Marc De Jong 0, Lucas Brouwer 0, Aaron Van de Graaf 19, Brandon DeVries 7, Luke Meininger 0, Nick De Jong 0, Andy Freepons 0.