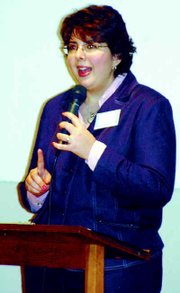 PROSSER - Members of the Lower Valley Christian Women's Club learned Monday that it's okay not to be in total control of every aspect of life.
Anna Tracy of Prineville, Ore. was the featured speaker for the club's monthly luncheon at the Barn Restaurant in Prosser.
She described how from an early age she tried to achieve perfection in everything, from her hair and make-up to grades in school.
"Approval had always been important to me," Tracy said of a childhood in which she did not have a father figure. "I thought if everything was perfect on the outside no one would know about my home life."
But the high school years took their toll, she said, with the combination of less than perfect grades, tension in her relationship with her mother and a break-up with her boyfriend.
All of that made Tracy realize she could never reach perfection or have a hope of college since she had failing grades.
"My aim for perfection was a defeating feeling because I couldn't do it," she said. "Have you ever felt so hopeless that you can't see the light to take the next step? That's where I was."
That's when the first of two major discoveries changed her life.
She found out that she had dyslexia, which was the root cause for failing some of her classes.
After that, she started out with two years in junior college, before graduating with honors from university.
Tracy's other discovery also happened between her high school and college years, when a friend invited her to a worship service.
It was there that Tracy said she learned about Jesus, who suffered and died so she didn't have to live a perfect life. It was also there that she said she gave her life to Jesus.
In exchange for that new life, Tracy said God called her to give up her pride and self righteousness.
Years later when she was engaged to be married, Tracy said she was concerned that she didn't have enough money for a traditional wedding.
"That's when God showed me how precious I was to Him," she said of the love demonstrated through so many people during her time of need.
What happened next, Tracy noted, is that friends and family stepped up from all over, offering to cook, make flower arrangements and even videotape the ceremony.
"The old me would have wanted to be in total control of all that, to have the last word," she said, her voice breaking. "But the new me was just grateful."