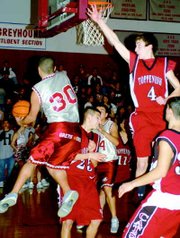 GRANDVIEW - The Grandview boys basketball team punched its ticket into the District semifinals with an 87-68 playoff win over Toppenish last night.
The game was close early, as the host Greyhounds led by just four in the second quarter, 24-20.
Grandview's guards were plagued by foul trouble, including sharpshooting C.J. Lopez.
Greyhound Coach Scott Parrish adjusted his team's offense, getting the ball inside to big man Nick Sears, who pounded for a career-high 22 points to go with 10 rebounds, four assists and three blocked shots.
"Nick had a nice game and the kids did a good job of getting the ball inside to him," Parrish said.
Grandview went on a 19-9 run to close out the half, behind a solid post game and perimeter shooting by A.J. Valencia, who was 6-of-11 for the game from three-point land.
"We just made some shots," Parrish said of the second quarter surge. "We played well, we made good decisions."
Sears scored eight of his points during a 20-14 Grandview run in the third quarter that put the game away. The Greyhounds also salted the game away at the free throw line in the third stanza, connecting on all 16 attempts from the charity line.
Valencia scored 19 points for Grandview and teammates Rodrigo Fajardo and Frankie Medina scored nine and eight points, respectively. Medina also dished out a team-high five assists to go with seven rebounds.
Despite picking up his fourth foul in the third quarter, Lopez tallied 11 points.
The District tourney moves to Ellensburg this Saturday, where Grandview (19-3) will play the host Bulldogs at 6 p.m.
If the Greyhounds win Saturday, they will clinch a State tourney berth and advance to the District championship contest at 8 p.m. next Saturday in Sunnyside.