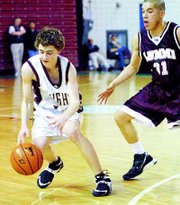 YAKIMA - Last night's 74-37 thrashing of the Lummi Blackhawks advances the Sunnyside Christian Knights into Friday evening's 1B State tournament semi-final game against the Curlew Cougars.
The winner of that 9 p.m. match-up will advance to the State tourney title contest, set for Saturday night in the Yakima SunDome, against the winner of tonight's 5:30 p.m. semi-final game pitting the Liberty Christian Patriots against the Tulalip Heritage Hawks.
In handily winning Thursday's quarter-final game against Lummi (12-12), the Knights took advantage of what the Blackhawks threw at them. Lummi opened playing straight-up man defense, and Sunnyside Christian exploited that alignment by dumping the ball into 6'4" senior Cole Van de Graaf. The Knights' big man broke open a 5-2 game by hitting three straight buckets to give his club an 11-4 lead. A couple of possessions later he added another basket, increasing Sunnyside Christian's lead to 16-4.
Lummi then switched to zone coverage, so the Knights altered their offense and began launching shots from behind the 3-point line. The missiles ended up on target, as Jesse Brouwer fired in two treys in the opening quarter, with Aaron Van de Graaf and Joel Koopmans each adding one long range bomb. By the time the second quarter rolled around, Sunnyside Christian had the game well in hand, leading 24-9.
All told last night, the Knights sank 11 shots from treyland, which included a 5-for-7 performance by Aaron Van de Graaf. He finished the night with a game high 20 points.
Koopmans enjoyed a double-digit scoring performance, as well, tossing in 18 points on 7-of-12 field goal shooting. Along with the 10 points Cole Van de Graaf finished with, Sunnyside Christian got a combined 15 points from the duo of Brouwer and Marc De Jong.
The Blackhawks had just one player in double figures, that being 6'2" junior forward Jordan Wilson, who pumped in 17 points.
"The Wilson kid has the softest shot in the world," SCHS Coach Dean Wagenaar said, noting he scored 15 of the Blackhawks' 22 first half points. Wagenaar switched his defensive alignment the second half to counter Wilson's scoring touch, putting the Knights in a modified box-and-one. With Nick De Jong and Lucas Brouwer covering him, Wilson only scored two points after intermission.
The two clubs played virtually even in the second quarter, but any doubt as to the outcome went by the wayside in the third period, when the Knights went on a 20-4 run.
"We hit a couple of 3-pointers to open the second half, and that just opened it up for us," said Wagenaar.
In trying to advance to Saturday's championship game-where a victory would give Sunnyside Christian a fourth State title and the second such championship in the last three years-the Knights (24-0) must get through a very athletic Curlew Cougar squad tonight.
"Curlew is pretty athletic," said Wagenaar of the Cougars (17-8).
"They've played a lot of good teams this season and have battled well," he said.
The one Cougar whom the Knights have to contain is 6'3" junior forward Austin Mannick, who averaged more than 19 points a game this season for Curlew.
"He's a post type player who moves around a lot. We'll be paying attention to him," said Wagenaar.
Lummi 9 13 4 11 -37
Sunnyside Christian 24 12 20 18 -74
FG-Lummi 14/40, Sunnyside Christian 28/57. 3-pt.-Lummi 2/13 (Jordan Wilson 2/4), Sunnyside Christian 11/27 (Aaron Van de Graaf 5/7, Joel Koopmans 2/5). FT-Lummi 7/9 (Jordan Wilson 3/3), Sunnyside Christian 7/15 (Aaron Van de Graaf 3/6, Joel Koopmans 2/5). Rbds.-Lummi 32 (Carter Lopez 7, Will Hillaire 4), Sunnyside Christian 28 (Aaron Van de Graaf 5, Joel Koopmans 4, Jesse Brouwer 4). TO-Lummi 26, Sunnyside Christian 7.
Lummi: David James 0, Dustin Tom 2, Kody Dennis 5, Gale Jefferson 0, Brandon Dennis 2, Ryan Jameson 2, Glen Robertson 7, Ronomus Plaster 0, Carter Lopez 0, Jordan Wilson 17, James Adams 0, Will Hillaire 2.
Sunnyside Christian: Joel Koopmans 18, Adrian Van Oostrum 0, Cole Van de Graaf 10, Danny Van Boven 0, Jesse Brouwer 8, Marc De Jong 7, Lucas Brouwer 4, Aaron Van de Graaf 20, Brandon DeVries 0, Luke Meininger 3, Nick De Jong 4, Andy Freepons 0.