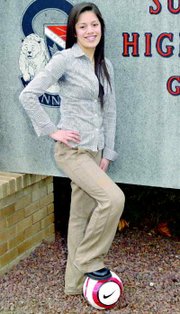 To be Miss Cinco de Mayo means a lot to 16-year-old Mayra Serna. The junior at Sunnyside High School thinks the title represents the Hispanic community and all of the obstacles the race has managed to overcome and still succeed.
"I've known about it ever since the seventh grade," she said.
Serna has one older brother, Gerardo, 19, a younger sister, Vanessa, 11, and a younger brother, Humberto, 9. Serna said she would like to become the 2007-08 Miss Cinco de Mayo to help out in her community, but to also be a role model for her siblings, as well as the younger children in Sunnyside. It's the children that really drive her in this.
"For my service project I would like to be involved with Sunnyside's Promise and the Sunnyside Police Department," she said. "I would like to try to come up with ways to stop teens from abusing alcohol and drugs. I would also like to prevent teen pregnancies as well."
Serna includes her mother as one of her role models.
"She's succeeded in life," she explained. "She came from Mexico and she came far. She has succeeded in so many things."
Dave Martinez, the leadership class instructor at Sunnyside High School, also made Serna's list.
"He relates to us in so many ways you wouldn't expect a teacher to," she said. "He's easy to talk to."
She listed PRIDE High School teacher Marisol Fernandez as being someone Serna would like to be like when she grows up.
"She was my teacher in middle school," Serna said. "When she went through some tough times she always looked ahead."
Serna is a bright student, maintaining a 3.5 GPA. Her favorite classes in school are AP Environmental Science and her leadership class. At school she's also involved with the Sunnyside's Promise Commission, the leadership club, the prom committee and she plays on the girls soccer team.
For the last three months she's been working at Safeway in Sunnyside.
"I love it there," she said.
Her hobbies include reading, especially texts that speak of careers in the medical field.
She wants to attend either Gonzaga University or Stanford University when she graduates from Sunnyside High School next year. In college she wants to study medicine but is unsure what field she will go into, although she has shown an interest in pediatrics.
Her talent in this year's Miss Cinco de Mayo pageant will be a dance routine.
"I'm thinking of mixing it up a little bit," she said. "Maybe incorporate sign language into it."
As for why she feels she would be a good Miss Cinco de Mayo she offered this.
"I have a lot of ideas to bring to my community," she explained. "I'm involved with my community, my church and my school.