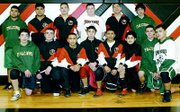 After placing four of its five wrestlers at State this year and earning a ninth place team finish, the Sunnyside High School wrestling team can look forward to a gaggle of talented wrestlers entering high school next year.
Harrison Middle School Coach Rick Ramos gave the Daily Sun News a list of 11 wrestlers he thinks will have an impact on the high school wrestling program next year.
Isiah Ferrer (90 lbs.) has gone 14-2 on the year and Ramos said he's a good kid.
"Kind of cocky and that helps him," Ramos added. "He's going to be one of the guys that will help his team."
According to Ramos, Ferrer is leading his team in takedowns and more importantly, listens to his coaches.
"He has some fight in him," he added.
Ismael Ramirez (105 lbs.) is 11-2 on the year and the eighth grader didn't wrestle last year.
"He's a tough kid you like to have on your team," Ramos said.
Ramos said Ramirez is one of the most improved kids on the HMS team, noting his two losses came early in the season.
Rigo Valdez (110 lbs.) is undefeated this season at 13-0.
"From day one he has said he wants to be the next Steve Sanchez," Ramos said. "He's been setting his goals and knocking them off all season."
Ramos said the kids Valdez barely beat last year are getting pinned by him this year in the first round.
Emmanuel Tejeda (125 lbs.) is another tough kid Ramos is happy with. He said his friend (Sierra Vista's Josh Romero) convinced him to try out for wrestling this year and so far he's compiled a 10-3 record.
"He hasn't missed a practice this year," Ramos said.
Adrian Ramirez (167 lbs.) is 7-1 this year and Ramos said he's a big kid who will help out the Sunnyside wrestling team next year.
He's tough," Ramos said, noting he broke three fingers last season. "This year he held up his hand to me and said, 'Look coach, no broken fingers,'."
At 177 lbs., Frankie Ochoa has been doing little guy wrestling most of his life. At 7-1 Ramos said Ochoa will be able to help Sunnyside out in the upper weights next year.
Raul Madrigal came out of no where according to Ramos. This year he has a 7-0 record and Ramos praises his positive attitude.
"He goes out and attacks," he added.
Heavyweight Adam Peters has improved a lot since last year.
"This year he came with an attitude and wrestles tough. Ely Gonzalez has helped him. They're always battling each other in practice."
Gonzalez himself has nine wins this season, all but one of them by pin.
Although team points aren't kept at middle school matches, Coach Ramos said his team wouldn't have lost a match yet, although they would have tied with Ellensburg.
"It's a great group of kids," he said. "Each year they are getting better. Our little kids programs really help with that."
Over at Sierra Vista Middle School, Coach Adrian Martinez has some pretty good kids himself that will be moving up to high school next year.
Martinez said Charlie Barajas (115 lbs.) has been wrestling for four years and his prior experience has really helped. This year Barajas is 13-1.
"In practice he is always focused," Martinez said. "He's quiet, prepared and ready to wrestle."
At 120 lbs. and 14-1, Josh Romero comes from a long line of wrestlers. Martinez said the younger Romero has been wrestling since he was five years old.
"He has a very spunky attitude," Martinez said. "He wrestles hard at 100 percent. He's very positive. I think he'll do very well next year as a freshman."
Devan Erney (137 lbs.) is 14-3 this season despite having some injuries this season.
"He's a pretty big kid and very talented," Martinez said. "He's been wrestling for several years. His attitude is like Josh's. He has a drive to wrestle 100 percent and win."
Eric Sanchez (147 lbs.) is another kid Martinez thinks will do very well in high school. Noting Sanchez is a little heavier, he said he will help out with the high school's upper weights. Although Sanchez has a 9-5 record, Martinez noted his losses are from simple mistakes where he just got caught.
"He has a good head on his shoulders and should continue to improve," Martinez said.
Ryan Hernandez is 147 lbs. and has an 11-4 record this year.
"He's been wrestling for a while now," Martinez said. He has a really positive attitude and goes out and wrestles hard."
Martinez added all his kids work hard but the wrestlers he mentioned have set themselves apart from the rest.
"They took the lead in many different ways," he said. "They've stood out the most. A lot of it has to do with their experience."