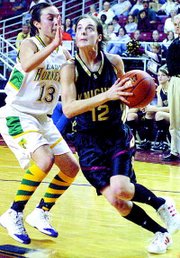 YAKIMA - The Sunnyside Christian girls encountered a hornets nest before rallying for a 66-57 win over Inchelium in yesterday's State 1B quarterfinal contest in the SunDome.
The Lady Knights trailed 38-29 at halftime.
"We came out and did fairly well, but they (Inchelium) were very, very good. They penetrated and made some fantastic lay-ups," Sunnyside Christian Coach Al Smeenk said of the Hornets, who previously had lost just five games this season, three of them to defending State B runner-up Curlew.
Speaking of Curlew, Inchelium was the only team to defeat the Cougars this season heading into yesterday's quarterfinal round.
For a half, it looked like the Hornets might give Sunnyside Christian just its fourth loss of the season.
It didn't help matters that Inchelium employed a pressing defense, and shot at a 50 percent clip from three-point land in the first half.
"They had five girls who made three pointers in the first game (Wednesday at State) so we knew they could shoot," Smeenk said. "We just weren't rotating out on the wing, we didn't match up well."
Smeenk's message to his squad at halftime?
"We just have to believe in our girls," he said. "The girls played hard, played well. We never thought we were out of the game."
The coach also switched up defenses against the Hornets, moving from a 2-3 zone to a 1-3-1 zone that allowed Sunnyside Christian's guards to better defend the perimeter shots.
The result was pure gold for Sunnyside Christian, which used a 14-9 third quarter run to get back into the game.
Down 47-43 heading into the final stanza, the Knights took over the game for good with a 13-1 run to go up 56-48 with just four minutes left in the contest.
Tori Van Wingerden scored 11 of her 30 game-high points in the fourth quarter, including seven during that pivotal 13-1 run.
Van Wingerden provided a potent one-two punch of three-point accuracy, hitting 4-of-6 from behind the arc, and a punishing inside game, drawing enough fouls to can 10-of-12 free throw attempts.
"When she gets in that zone, it doesn't surprise me what she can do," Smeenk said of Van Wingerden's big game.
But this was no one-woman show, as teammates Melanie Van Wingerden and Andrea Schutt took advantage of a height advantage in the paint to combine for 20 rebounds in leading the Lady Knights to a 48-35 advantage on the boards.
On defense, Sunnyside Christian's perimeter persistence wore down the Hornets, holding them to just 14 percent shooting from three-point land.
Smeenk also thought that Inchelium's early defensive pressure may have worn them out down the stretch against a Sunnyside Christian team that saw 10 different players take the court.
"We cut down on our turnovers in the second half, and it seemed like they were tiring out," Smeenk observed.
Jacqui Roberts scored 10 points to help the Sunnyside Christian cause. It was she who scored the first points to spark the Lady Knights' fourth quarter surge. Hilary Bosma added nine points for the Lady Knights, to go with seven rebounds and three steals. Melanie Van Wingerden tallied eight points.
Sunnyside Christian, 22-3 on the season, plays Colton (22-5) in today's 4 p.m. semifinals.
If the Lady Knights win today, they will advance to the inaugural 1B championship game at 7 p.m. this Saturday evening against either three-time state champ Tekoa-Oaksdale or Sprague-Harrington, both from the Southeast District.
But first there is the matter of Colton.
"They will press us, but we'll be ready for that," Smeenk said. "We're going to go hard and go down to our post."