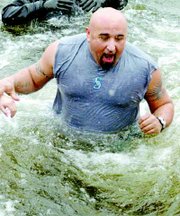 ELLENSBURG - In a one-sided win that surprised even Greyhound Coach Scott Parrish, the Grandview boys basketball team knocked off host Ellensburg 52-38 last Saturday to advance to the CWAC District title game.
"I was a little nervous coming in," Parrish said of the contest against the Bulldogs. "They beat Prosser and lost to Wapato by one."
Behind sharpshooter C.J. Lopez, Grandview quickly turned Ellensburg's zone defense on its head, with Lopez canning three treys in the opening stanza and shooting for 16 of his game-high 19 points by halftime.
"The kids played real well," said Parrish, "We made a few little adjustments."
Three-point marksmanship by Lopez and A.J. Valencia proved key in the first half as Grandview struggled with its shooting touch (just 2-of-11) inside the arc heading into intermission.
Despite that poor shooting percentage and scoring just 25 points at halftime, Grandview still held a double digit lead at the break by holding Ellensburg to just 15 points.
"Our defense was awesome," Parrish said of his team's play in a man-to-man defense. "We contested their shooters."
With Grandview knocking it down from three-point land, Ellensburg broke its zone in the second half in favor of a tighter man-to-man defense.
As they have all season, Grandview responded by kicking it inside to big man Nick Sears in the post. Sears responded with five of his 11 points during a 15-5 third quarter run to put the game all but out of reach.
Grandview led 40-20 heading into the final quarter, before Ellensburg made a too little, too late run in a losing cause.
Besides Sears and Lopez, Valencia was the Greyhounds' other scorer in double figures with 10 points to go with a game-high five assists.
Sears earned a double-double, hauling down 12 rebounds, six of them on the offensive boards, to go with 11 points and three blocked shots. "Nick had fire in his eyes," Parrish said.
Also cleaning up on the offensive glass for Grandview was Adrian Perez with four offensive caroms and seven rebounds altogether.
"We just always try to stress that the kids that get the offensive rebounds are usually going to put them back in," Parrish said.
For the game, Grandview outrebounded Ellensburg 38-26.
Even Grandview's guards got in the rebounding act, as 5-6 Frankie Medina swooped in for 10 rebounds.
"He always seems to do what we need him to do," Parrish said of Medina. "Ellensburg's a pretty big team and I don't know how he came up some of those boards."
Grandview (20-3) clinched a berth in the 2A State tourney with Saturday's win and a spot in this Saturday's District championship game against East Valley, which upset Wapato.
"East Valley always plays tough this time of year," Parrish said of the Red Devils, who upset Grandview at home in last year's District tourney.
Grandview and East Valley tip off at 8 p.m. this Saturday in Sunnyside for the District title and top seed at State.
Parrish hopes his team follows the same recipe that dominated Ellensburg.
"Hopefully we'll rebound, take care of the basketball and play good defense," he said.