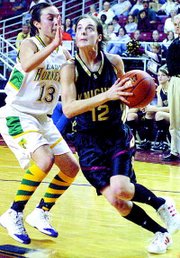 YAKIMA - Saturday night, Feb. 24, was a half-moon according to the calendar.
Depending on your perspective, the cup was either half-full or half-empty for the Sunnyside Christian basketball programs as the girls lost the inaugural 1B State final, while the boys went on to win its title game.
As far as the girls' loss is concerned, it's not rocket science, but simple mathematics
"We just went up against a better team tonight," Lady Knights' Coach Al Smeenk said of the 67-48 loss to Sprague-Harrington, good for second-place honors. "We focused on stopping their guards and thought we could neutralize them in the post. They showed why they've been number one all season."
Smeenk had good reason to worry about the Falcons' perimeter play, as tourney leading scorer and MVP Roni Jo Mielke posted 22 points against Sunnyside Christian, including five during a 13-3 second half run that all but put the game out of reach.
With Sunnyside Christian forward Andrea Schutt hobbled by a high ankle sprain, the Lady Knights also struggled against the post duo of Maria Rustmeyer and Jackie Lowman, who combined for 16 second half points.
Speaking of Schutt, she got things off to a promising start Saturday with a three-point bucket to put the Lady Knights up 3-0. Sunnyside Christian was up 16-12 late in the first quarter, including a 16-14 lead after one quarter, only to see the Falcons score eight consecutive points to go up 20-16.
In a sign of things to come, turnovers plagued Sunnyside Christian during that run, with six miscues in less than two minutes. For the contest, Sprague-Harrington's hand-in-face pressure defense led to 19 Sunnyside Christian turnovers.
The Lady Knights righted the ship temporarily, as buckets by Melanie Van Wingerden-a tourney first-team selection along with Tori Van Wingerden-and Brittany den Hoed knotted the contest at 20-all.
Sprague-Harrington rallied from there to close out the first half with a 28-22 lead.
Midway through the third the Lady Knights were still within 41-34, when the Falcons went on that 13-3 rampage to go up by 46-34 after three quarters and up 54-37 with 6:13 to play in the game.
"I think they played up a notch," Smeenk said of Sprague-Harrington's level of competition. "They looked sluggish on video, but not today (Saturday)."
The Falcons' repeated strikes from the perimeter and the paint forced Sunnyside Christian to forgo its season-long zone defense in favor of man-to-man coverage.
The Lady Knights had just enough gas in the tank, though, to mount one more surge. After it looked the game was gone, down 17 points with just six minutes to play, Sunnyside Christian went on a 9-2 tear to pull within 56-46 with 3:37 to play.
"At the end we caught fire but it was too late," said den Hoed, playing her last game in a Sunnyside Christian uniform. Classmate Tori Van Wingerden agreed, noting, "I didn't have any energy left."
Sprague-Harrington closed out the game with an 11-2 run over the last three-plus minutes, a span which saw Sunnyside Christian again struggle with miscues in turning the ball over four times while getting off just two shot attempts.
Sunnyside Christian (22-4) had three scorers in double figures, led by den Hoed's 13 points. Tori Van Wingerden, Melanie Van Wingerden and Schutt tallied 11 points each.
Jacqui Roberts dished out four assists for the Lady Knights, while Melanie and Tori Van Wingerden collected nine and six rebounds, respectively.
"We had a good defensive plan, but we didn't have the athletes to match up with Sprague-Harrington," Smeenk said of the finals defeat.
In order to reach the finals, the Lady Knights first had to get past Colton in last Friday's semi-final round.
With nine first-half points by den Hoed, Sunnyside Christian took control early in the 60-41 victory. The Lady Knights put the game out of reach with a 13-3 run in the fourth quarter, keyed by four points each from Melanie Van Wingerden and Roberts.
Roberts and den Hoed led Sunnyside Christian in scoring with 13 points each, and Melanie Van Wingerden added 12 points. In rebounding, den Hoed climbed the ladder for 10 boards to record a double-double.
Sunnyside Christian's Hilary Bosma and Tori Van Wingerden added eight and seven points, respectively.
Friday's win led to the second title game appearance for Smeenk and the Sunnyside Christian girls in the program's 26-year history.
The Lady Knights were also in the finals in 1996, where they lost to one of the best B teams of all time in St. John-Endicott.
Smeenk said the 1996 squad probably had better athletes and the 2007 finals team was a surprise in getting as far as it did.
"This team overachieved," he said of the 2006-07 Lady Knights. "This is something to be proud of. There are hundreds of girls out there that would have loved to have had this opportunity (to reach the finals)."
So what was the spark that got this team not only to State, but to a shot at winning it all?
Tori Van Wingerden, who set a tourney record with 30 points in last Thursday's quarterfinal win, summed it up. "We just played to win every night."
And, with only four losses in 26 games, they very nearly did just that.