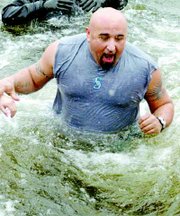 PAID OBITUARY
The Lord took our angel, Juan Vega III "Johnny", 18, on Tuesday, Feb. 20, 2007 at Children's Hospital in Seattle after a short, but courageous, two month battle with Leukemia.
He was born Dec. 26, 1988, in Toppenish, to Juan Jr. and Dora (Mendoza) Vega. He attended East Valley High School and worked as a cook for the family-owned restaurant, Backwoods Café, and also at Sea Galley.
Johnny was a very giving and caring person. This was proven by the way he took care of his family, especially his little cousins. He would take them to the store to buy candies, ice cream or anything they wanted. He would treat them all equally without regard of cost. This is what brought him "great joy"!
Johnny had many hobbies including reading, writing, cooking, bike riding and babysitting. His passion, though, was music. In the past, he had been a DJ host for friends, family and his school. He also loved Johnny Cash; "Walk the Line", both the movie and CD. He just couldn't get enough of them, and would play them over and over again.
After getting better, his wish was to take a vacation to spend some time with his family in California.
Johnny will be remembered for his smile, loving heart and great soul. He loved to tell jokes and make people laugh. He will be missed for the rest of our lives.
Survivors include his parents, Juan and Dora Vega; brother, Adrian Vega; grandparents, Juan S. Vega and Tovias and Maria Mendoza; his aunts, Lydia Garza, Maria E. Mendoza, Aurelia Mendoza, Rosa Mendoza, Judy Botello, Lucy Mendoza, Alma Mendoza and Sandra Cuevas; his uncles, Bobbie and Andy Vega, Trino, Albert, Rodrigo and Junior Mendoza; and many, many cousins, whom he loved dearly.
Visitation will be held Monday, Feb. 26, 2007 and Tuesday, Feb. 27, 2007, from 4 to 8 p.m., with a Vigil/Rosary being held Tuesday at 5 p.m. at Keith & Keith Funeral Home Chapel, Ninth Ave., Yakima. Mass of Christian Burial will be held at 1:00 p.m. on Wednesday, Feb. 28, 2007, at St. Aloysius Catholic Church in Toppenish. Burial will follow at Terrace Heights Memorial Park. Donations may be made to Bank of America in the name of Johnny and Dora Vega. To share a memory of Juan (Johnny), please visit
www.mem.com
. Arrangements are in the care of Keith & Keith Funeral Home.
More like this story