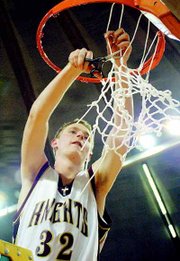 YAKIMA - They've had a bulls eye on their backs all season long. Regardless, the Sunnyside Christian Knights lived up to their No. 1 ranking, capping off the school's first-ever undefeated season by capturing the 1B State title Saturday night in the Yakima SunDome.
Ranked as the top 1B team in the state from the very first poll released early on in the season right to the end of the 2006-07 campaign, the Sunnyside Christian boys basketball team lived up to that billing by dispatching all comers in the State tourney.
The last team to stand in the Knights' way of a perfect 26-0 season was the Tulalip Heritage Hawks. The Marysville club brought a sparkling 23-3 record into Saturday night's championship tilt, as well as tons of athleticism and a bevy of pure shooters with an uncanny touch for drilling bombs from 3-point land.
Undeterred, the Sunnyside team broke away from the Hawks late in the second quarter, then proceeded to slowly pull away the second half, eventually claiming a rock solid 58-40 victory.
For the Knights, the State title was their second in the last three years and their third in the last six seasons. Overall, this year marks the fourth time Sunnyside Christian has won top honors at State.
There are two things, perhaps, that makes this year's State title a bit sweeter than the first three championships. First off, this was the inaugural State tournament for the newly formed 1B high school classification. The WIAA reclassified the high school divisions this season, splitting the class B ranks into 1B and 2B classifications.
Secondly, this year's State championship is the first ever for the Knights that includes no blemishes. Sunnyside Christian didn't suffer a single loss all season.
"It's been a nice group of young men to work with," said long-time SCHS Coach Dean Wagenaar.
"After winning it Saturday night, it was nice to stand back and watch the kids celebrate, to see their families and all the fans celebrate with them.
"It was a moment of pure joy. You don't forget moments like that," he said.
For the Knights to play in Saturday's title game, they had to get past the Curlew Cougars Friday evening in a 1B semifinal match-up. No problem, it turned out, as Sunnyside Christian for the third time in as many days at State held its opponent under 40 points.
The 46-34 win over Curlew didn't come as easily as Sunnyside Christian's first two State tourney victories over Odessa and Lummi, but the Knights persevered and got the job done.
"Our shooting touch wasn't there against Curlew, especially from the perimeter," said Wagenaar, noting his club made just 1-of-11 from 3-point land.
"I think our kids felt some pressure heading into the game," he said, explaining they had just witnessed their counterparts, the Lady Knights, wrap up a spot in the State championship game on the girls side of the Dome. "The boys might have been feeling pressure, knowing the girls got in and now it was up to them to also get into the championship game," Wagenaar said.
With their shots not dropping from the outside, the Knights turned to 6'4" senior Cole Van de Graaf. Eventually named the State tournament MVP, Van de Graaf dropped in 20 points against Curlew to rally the Knights to the 12-point margin of victory. A 9-0 run to open the fourth quarter, which Sunnyside Christian went into with just a slim two-point lead, proved to be the difference. Van de Graaf, who was 7-for-8 from the field in the contest, hit two key lay-ups during that stretch.
Wagenaar also credits his team's defensive play for the Knights' win over Curlew.
"Offensively, some games it's there for you and some games it's not," he said. "But on defense, it consistently has to be there every game.
"Friday night against Curlew, we didn't have all our offense clicking, but the kids came through on the defensive end," Wagenaar said. The numbers bear that out, as no Curlew player scored more than six points in the game.
It wasn't difficult for tourney officials to name Van de Graaf the most valuable player of the tournament. In the four games the Knights played, he shot at an 81 percent clip, making 26-of-32 shots from the field.
"None of the teams had an answer for him," Wagenaar said of Van de Graaf.
Van de Graaf kept up the heroics Saturday night, equaling his point total from the previous evening with another 20-point performance in the title contest. But unlike Friday night, Van de Graaf had plenty of offensive support. Junior Joel Koopmans, named a 1B State All-Tournament second team selection, fired in 15 points on 5-of-8 field goal shooting, which included dropping in 2-of-4 from behind the 3-point arc. Van de Graaf's cousin and the team's leading scorer this season, 6'1" senior Aaron Van de Graaf, added a 12-point effort in the championship game. And he, like his cousin, earned All-Tournament first team honors.
The offensive key in defeating Tulalip Heritage, said Wagenaar, was attacking the base line.
"Watching them Friday we knew they ran a modified 1-2-2 zone," said Wagenaar. "To beat that we had to attack the base line," he said, explaining the ball often went to the 6'4" Van de Graaf inside, who dumped it into the hoop from inside the key, or the ball got kicked out to the perimeter, from where Sunnyside Christian made 7-of-19 from treyland.
Defensively against Tulalip Heritage, the Knights focused on shutting down the Hawks' perimeter game. "They had 27 treys in their first three State tournament games," said Wagenaar.
"We didn't want their 3-point shooters to stand and shoot, so we came out in a straight man defense. We stayed in man the whole game," he said.
The ploy worked. The 6'1" Van de Graaf manned up the Hawks' top perimeter shooter, Lesjar McKinney, holding him to 1-of-6 three-point shooting. Tulalip Heritage's two other perimeter shooters, Toby Miller and Antonio Johnson, went a combined 0-for-5 from treyland, thanks mainly to the defensive efforts of Jesse Brouwer, Lucas Brouwer and Nick De Jong.
Sunnyside Christian broke open the relatively tight game, up 24-21 with under two and a half minutes to play in the first half, with an 8-1 run to seize the momentum. Two quick buckets by Cole Van de Graaf to start the second half sealed the deal for the Knights.
"We were in control then," said Wagenaar. "It was the separation we needed."
In looking ahead, Wagenaar loses seven seniors off this year's team. The two key players he'll build around are juniors Jesse Brouwer and Joel Koopmans. "We also have (sophomore) Danny Van Boven back, who's a pretty good guard.
"We're also counting on several juniors returning, and we have a pretty strong eighth grade class coming up," said Wagenaar.
"One way or another, we'll find a way to be good. Somehow, no matter who you lose from one season to the next, other kids step up and come in and do the job.
"We'll find out if that's the case next season," he said.
Knights fans are eagerly awaiting to see if that bears out, as well.
State 1B quarterfinal
S'side Christian 14 8 5 19 -46
Curlew 11 9 5 9 -34
FG-S'side Christian 17/35, Curlew 13/41. 3-pt.-S'side Christian 1/11 (Aaron Van de Graaf 1/5), Curlew 2/9 (Tyler Keeley 1/2). FT-S'side Christian 11/23 (Cole Van de Graaf 6/13), Curlew 6/14 (Daniel D'Lerma 2/2). Rbd.-S'side Christian 24 (Joel Koopmans 8, Cole Van de Graaf 6), Curlew 33 (Austin Mannick 7). TO-S'side Christian 15, Curlew 19.
S'side Christian: Koopmans 8, Van Oostrum 0, C. Van de Graaf 20, Van Boven 0, J. Brouwer 0, M. De Jong 0, L. Brouwer 2, A. Van de Graaf 12, DeVries 0, Meininger 2, N. De Jong 2, Freepons 0.
Curlew: Strandberg 6, D'Lerma 6, Novikoff 4, Keeley 3, E. Mannick 0, Gregory 2, Payne 4, Wakefield 5, Porter 0, A. Mannick 4, Echols 0, Engstrom 0.
State 1B finals
Tulalip Herit. 11 11 9 9 -40
S'side Christian 11 21 12 14 -58
FG-Tulalip 15/38, S'side Christian 22/37. 3-pt.-Tulalip 3/13, S'side Christian 7/19 (Lucas Brouwer 2/4, Joel Koopmans 2/4). FT-Tulalip 7/9, S'side Christian 7/12. Rbd.-Tulalip 16, S'side Christian 28 (Joel Koopmans 10, Cole Van de Graaf 7). TO-Tulalip 8, S'side Christian 7.
Tulalip Heritage: Ike 0, McKinney 16, Jones 2, Wooster 3, Monsegur 7, Miller 3, Wasko 0, Johnson 9, Davis 0, Hatch 0, Reedy 0.
S'side Christian: Koopmans 15, Van Oostrum 0, C. Van de Graaf 20, Van Boven 0, J. Brouwer 3, M. De Jong 0, L. Brouwer 6, A. Van de Graaf 12, DeVries 2, Meininger 0, N. De Jong 0, Freepons 0.