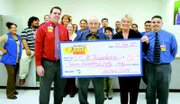 The Wal-Mart Super Center in Sunnyside announced last week that it will again support the Sunnyside Community Hospital Foundation's annual golf tourney.
"We know that the funds generated from this benefit tournament will help the remodeling of the emergency department at the hospital," said store manager Jake Federwisch. "We feel that this project is vitally important to our community."
Wal-Mart's participation in the annual golf tourney was announced last Thursday, when its employees banded together to raise $750 to help out with expenses related to the tourney, one of the foundation's two major fund raisers.
Bill Flower, the foundation's development director, said the $750 will go towards prizes and expenses for the tourney, held the last Saturday of each August.
Flower explained that it costs about $12,000 to put on the fundraiser, the second largest for the foundation after the annual Evening in the Park.
All proceeds from this year's golf tourney will go toward the hospital's project in nearly doubling the space of the emergency department.