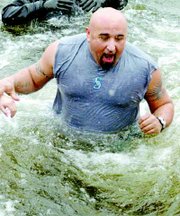 YAKIMA - It was cold. Hovering around 33 degrees with a wet snow falling, Yakima County residents showed up at Sarg Hubbard Park in Yakima last Saturday to participate in the sixth annual Yakima Sheriff's Office Polar Bear Plunge.
Sheriff Ken Irwin was there, cowboy hat in hand and wearing bright red long johns. Dr. Evil and Mini Me were also there and Santa Claus made a late season appearance.
Representatives from the Sunnyside Police Department made an appearance as well. They all came to jump into the 42 degree lake at the park to help raise money for the Special Olympics athletes in Yakima County.
"This money allows all the athletes to participate in the events at no cost to them at all," Megan Cypher, an administrative secretary with the Yakima County Sheriff's Office and an organizer of the event, said.
She said this was the most successful plunge in the six years it's been held. This year's teams and individuals raised $10,530.25 for the Special Olympics athletes. That's more than double what was raised last year.
She said 52 plungers participated in the event and there were approximately 200 people in attendance to watch.
The team from the Sunnyside Police Department, Sergeants Oliver Hernandez and Andrew Gutierrez, corrections officers Louie Valdez, IT person Ryan Austin, police chief assistant Charlotte Hinderlider and Vanessa Ibarra raised enough money to get the 'Highest Fund Raising Group' plaque. Hinderlider also received a plaque for recruiting the most plungers.
Hinderlider said the Sunnyside group raised approximately $1,400.
"We'll do it again next year," she said. "It wasn't nearly as bad as I thought it would be. It's all for a good cause so it can't be that bad anyway."
Her teammate Sgt. Hernandez wasn't singing the same tune as Hinderlider.
"It was colder than I thought it was going to be," he admitted.
Still, Hernandez said he will be back again next year and plans on bringing more people with him.