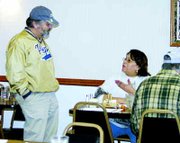 PROSSER - For most of his life, 30 years, Carlos Léon was a nuclear scientist, working for General Electric, instructing other nuclear scientists at facilities across the country after graduating from Pacific University in Forest Grove, Ore. "In the nuclear industry, you can wear a lot of hats," Léon commented.
Those "many hats" he once wore have helped him since he left the nuclear science field.
This past August Léon and his wife, Peggy, took over ownership of the ever-popular dining establishment, the Blue Goose Restaurant in Prosser.
Léon, a Toppenish High School graduate, was laid off from Energy Northwest at Hanford in 2004. Unable to find comparable employment, he was approached by a friend, Lupe Barragan, who owned Casa Chapala in the Tri-Cities. Barragan asked Léon to help him manage the two Casa Chapala restaurants, which were trying to recover from a Chapter 11 bankruptcy.
The experience allowed Léon to gain knowledge in managing two restaurants and two bars. He was able to learn inventory control, payroll, the ins and outs of bankruptcy regulations and how to deal with the health and liquor departments. "The catering experience required organizational skills," he said.
Unfortunately, the restaurants closed up permanently in 2005, however Léon still had talents he was able to utilize. He has a very extensive musical background and was able to help direct the Tri-City Prep choir. In addition, he taught Spanish part-time for the school.
In early 2006, Léon read an article in the Tri-City Herald that mentioned Blue Goose owners Jim Weber and Dick Denson were looking for "...the right people to take over Blue Goose."
Because Léon knew the quality of the food and the reputation of the Blue Goose, he decided to give Weber and Denson a call. They, in turn, had him call HIMSL Real Estate and the three met in person. During this process, Léon put down his "earnest money" to buy the restaurant.
"My biggest obstacle was in obtaining financing," he said. "I received a lot of rejection letters."
The obstacle was overcome when the Benton-Franklin Council of Governments approved Léon for a loan. "They really helped me," he commented.
He said the purpose of the Benton-Franklin Council of Governments is to help individuals become owners of small businesses. Their requirements included a copy of a letter of rejection from a financial institution. "I had to ask them to pick one since I had so many," Léon joked.
"Really, the way everything fit into place was by the grace of God," he said, explaining that he realizes there are reasons for even the tough times in life.
Léon said waiting on the liquor license was his next obstacle. "You can't really have a good restaurant with the Blue Goose unless you are able to offer wine with the meals we serve," he commented.
If Léon were to name a drawback to owning the restaurant, he said it would be the fact that he lives in the Tri-Cities. He said his five children were accustomed to his being more available prior to the venture. But, he believes "...it will work itself out, too."
He said his three oldest children will be a part of the restaurant in the coming summer months. "I want them to learn the hard work involved in our business," Léon said.
Léon also stated that the community reception has been excellent so far. "I grew up in the Valley and consider myself a Valley boy. This has allowed me to become reacquainted with old classmates, family and friends," he said gleefully.
He said the people of Prosser are extremely supportive and he has enjoyed getting out on the floor to engage with his customers. "I am not afraid to work. If I see something needs done, I do it. I even wash dishes," he said.
When asked about the menu, Léon said he has an agreement with the previous owners, "They are helping me on the big occasions such as Mardi Gras and Oktoberfest. We agreed they would help me for a year on special events and menus."
He is proud of his staff and said he wants to make sure he continues to have good chefs on staff so that the restaurant will continue in its success.
Léon also would like to add an area where Blue Goose would roast fresh coffee. "Fresh roasted coffee is a passion I have," he said.