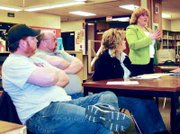 GRANDVIEW - The Grandview Booster Club, which was formed six months ago, approached the Grandview School Board this past Monday night to obtain recognition from the school district in order to obtain insurance.
Representatives of the booster club appearing before the board included Anne Concienne, Chuck Stegeman, and Shelbie and Dan Hall.
Concienne explained to the school board that after the former booster club disbanded, there was a need within the school district for a new booster club, and Grandview High School Athletic Director Zane Wells approached her with the idea of forming one.
Meetings to establish interest in the booster club began last summer and bylaws were established. Concienne told the board the Grandview Booster Club will act as an umbrella group for 11 groups interested in forming such a coalition.
"In order to obtain insurance to protect our members, we need to have recognition as an established organization," Concienne said.
She explained the establishment of the booster club required a lot of paperwork, most of which was done by Stegeman. She said Stegeman also was able to obtain non-fee accounts courtesy of Lower Valley Credit Union for each group that is a member of the booster club.
"We're just on the verge of getting going," Concienne said, explaining the insurance would be in effect Sept. 1.
She explained the importance of the booster club is to allow groups within the school district another avenue in which to save fundraising monies. Prior to the establishment of a booster club, the only way for groups to save the funds raised was through ASB. "Through ASB, the coaches have to manage the fundraisers and they already have a lot of work to do. This allows parents to handle the fundraisers and takes some of the load from the coaches," she said.
The Grandview School Board voted unanimously to recognize the Grandview Booster Club as an organization, given all the facts provided.