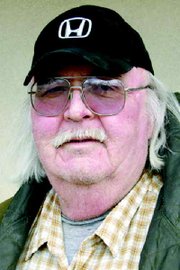 Most people would be beside themselves with excitement if they knew they were one of 210 people across the nation that might have won the Publisher's Clearing House $10 million sweepstakes. But Sunnyside's Brian Haas just looks at the situation with amusement.
Haas was notified this past Friday that he'd won at least $1,000 and was in the running to unexpectedly welcome the Publisher's Clearing House Prize Patrol come Wednesday.
Actually, before Haas had time for the mailman's visit and letter alerting him to the situation, he heard about it on the radio. "I wake up usually at about 6 a.m. and listen to the local newscast. I was just laying there and, all of a sudden, I heard my name," he recalls.
Publisher's Clearing House had sent the letter via overnight mail, but alerted local media first thing in the morning. The mail didn't come until the afternoon.
When the Daily Sun News phoned him that day, Hass got a kick out of it. It wasn't until a good few hours later he got the official word.
So what is he going to do if he wins big? "I'm going to go hide," he teases. "And put an answering machine on the phone. Every critter in the country is going to be calling wanting me to invest in this or that."
Seriously, Haas says, money for him is just a tool and if he won, he'd likely invest it.
Haas says he's entered the contest several times. This year's entry was via the internet. "I figured since I'm paying for the internet, why not use it and save myself the postage," said the 70-year-old asparagus farmer.
Haas says that he's really not too worked up about what Wednesday might bring, though he'll likely be home that day.
"I'm going to be there. If they come, that's fine. If they don't come, that's fine too. I'll still keep sending them (the entries) in."
Haas finds the publicity amusing--both the local publicity and the fact that the prize patrol's visit will be featured on NBC news.
Following the interview with the Daily Sun News, Haas joked, "If they call you first (before showing up on the doorstep), give me a holler!"