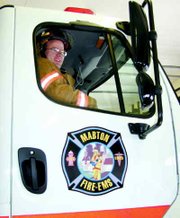 MABTON - Depending on what day, or what time of day it is, Luke Cussins is a man of many different hats.
He juggles his time as farmer, Mabton fire chief and Spokane Fire Department lieutenant in the communications center.
Cussins grew up just west of Mabton at what was then called Boyville, a ranch for trouble youth where his parents worked (now called First Love Ranches).
After graduating high school, Cussins left for Oregon to pursue a degree in electrical engineering. After a year of studies, he headed back home to Mabton. Electrical engineering wasn't for him.
When he was 17-years-old, he remembers hearing the siren go off in town, heralding the volunteer firefighters to the station. "I wanted to help out," Cussins said. By the time he turned 18, he became a volunteer firefighter.
After that initial year of college Cussins sent off letters of interest to every fire department in the state of Washington. At just 19-years-old, Cussins was hired as a Spokane firefighter.
Of his move from Mabton to Spokane, Cussins said, "I went from 160 acres to a 50 by 100 foot lot."
Cussins enjoys being busy. "When I was in the station in Spokane, I was on the South Hill. We averaged about one call a day, usually between 7 and 10 p.m. It was almost a pattern. It just got boring," he says. Now, in his job at the communications center, he and his team field dispatch calls for the city of Spokane and the county. Recently, they took roughly 150 emergency calls during his shift.
About nine years ago, because city life wasn't really to his liking, Cussins wanted to come back home. "I guess I got the farming itch in me." He bought some acreage and began farming hay near Mabton. In the meantime, he has commuted to Spokane ever since to maintain his job position there.
After three days in Mabton, Cussins rolls out of bed at 2:30 a.m. and hits the road by 3 to show up for his 24-hour shift, where he oversees four people in the communications center. Cussins said that during the shift, if it's not too busy, employees can sleep during a three-hour break. But if it's busy, he says, "You just get to stay up for 24 hours."
This past January, Cussins, who was a Mabton Fire Department captain, was promoted to fire chief. There, he says, "I just take care of administrative stuff and lead the team.
"Ultimately, I'm in charge, I'm the leader. But I just love to get in there and work as a team and accomplish the goal."
Cussins is proud to be a part of the Mabton Fire Department and he's proud of the volunteers. After all, they're not in it for the money. Cussins makes a whopping $30 a month as chief.
"People just do it because they want to serve the community," he said. "And we need more."
Cussins and his wife Linda are currently working on a new project--raising son Noah, who's two. Will Noah grow up and follow in his dad's footsteps? "Right now he's really into tractors. But (when he's older) if he wants to stick around the area, we'll certainly take him on as a volunteer (firefighter)."