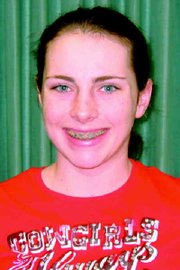 BICKLETON - Bickleton's Katelynn Clinton has been named to the Greater Columbia B League Girls Basketball All Opponent Team.
The team is made up of 12 girls selected for the honor by coaches of teams in the league. All told, 26 girls were nominated.
According to Clinton's coach, Tom Whitmore, this year the 1B and 2B leagues combined to make the selections.
"The players represent what the league's coaches feel are their top players for the season," Whitmore said. "Coaches may not vote for players from their own school, so the selection is made by other coaches."
The team isn't a team that will have actual play. It's a "dream team" of sorts and a top honor.
What makes Clinton stand out is the fact that she's in the eighth grade. Bickleton High School's small size allows eighth graders to be on the team.
During the 2006-07, Clinton averaged 13 points per game and 12 rebounds per game.
The Lady Pirates as a team took the Girls Sportsmanship honor.