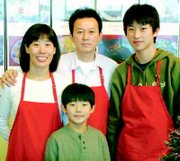 Opportunity knocked for the You family while attending church, and now they own the Teriyaki Express restaurant in Sunnyside.
Sung You said he and his wife, Jung, were looking for an opportunity.
They found it while attending worship services at a Korean-language Presbyterian church in the Tri-Cities, where they live.
"We attend the same church as the former owners (of Teriyaki Express) and found out they wanted to sell," Sung said with translation assistance from his son Kevin.
The Yous took ownership of the eatery on Dec. 4.
It is the first business venture for the family and they are enjoying the transition from employee to employer, even if it means putting in long days as a small business owner.
"It feels good," said Jung. Sung added that he is used to working long hours.
Sung came to the U.S. from South Korea nine years ago. He and his family have lived in the Tri-Cities for the past four years.
"I like it here," he said. "I always wanted to come to America. All of my friends came here to live."
Teriyaki Express, located near Wal-Mart at 2695 E. Lincoln Avenue, continues to offer popular menu items under the new ownership, such as daily lunch specials, Chicken Teriyaki and Yakisoba.
"We want to keep it simple," You said. "We want to make the food taste as good as possible and offer kind service."
In addition, the Yous are including new items that reflect their Korean heritage. Under their ownership, Teriyaki Express has expanded to include Korean Barbecue Beef, Korean Red Hot Shrimp and Beef Short Rib.
"It's sweeter than U.S. barbecue," You said of the Korean barbecue sauce. He smiled, and added, "It's a secret recipe."