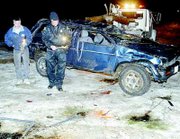 GRANDVIEW - Both, a 26-year-old Sunnyside man and a 17-year-old Pasco girl lost their lives New Year's Day as the result of two separate motor vehicle accidents.
Strangely, the two accidents occurred at about the same place-on I-82 near milepost 74 just outside Grandview.
The first of the two fatal mishaps claimed the life of Juvencio Ruiz Jimenez, 26, of Sunnyside. According to the Washington State Patrol, Jimenez was westbound on I-82 at about 3:30 p.m. Monday afternoon when his 1994 Nissan Pathfinder entered a section of roadway that was covered by ice. Jimenez, the driver of the SUV, lost control of the vehicle and it rolled. He died at the scene.
Investigating troopers said the accident was caused because Jimenez was speeding too fast for the road conditions at the time.
A passenger in the Nissan, 28-year-old Carlos Ruiz Jimenez of Sunnyside, survived the rollover but required transport to Prosser Memorial Hospital.
Both men, said WSP troopers, were wearing safety restraints at the time of the accident.
The second of the two fatalities occurred less than four hours later, at about the same location, except in the eastbound lane of I-82. In that one-vehicle rollover, 17-year-old Michelle Rivera of Pasco succumbed to her injuries a short time after being transported from the scene.
Rivera was a passenger in a 2001 Mitsubishi Eclipse driven by Jorge L. Cejas, 21, of Pasco. WSP troopers report she was not wearing a safety restraint.
Cejas, according to the WSP, was speeding too fast for the prevailing road conditions and lost control of his car when it hit a wet patch of roadway.
The driver, along with a second passenger in the car-8-year-old Glenda Chavez Barajas of Everett-both sustained injuries in the rollover and were transported to Prosser Memorial Hospital. Both, Cejas and the youngsters were wearing safety restraints.