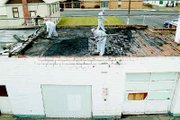 A white, block building near Sixth Street and Franklin Avenue in Sunnyside will be demolished.
That's according to the building's owner, Sunnyside Grace Brethren Church.
Doug Bridgeman, a trustee for the church, said the short-term plans are to remove roofing materials that contain asbestos.
Yesterday morning a crew from Tri-Cities based North West Restoration was on top of the building, removing the roofing materials.
Todd Lee supervised the roofing removal process for North West and said crew members wore white protective gear as a precaution to themselves from the asbestos. He said there was a small amount of asbestos in the material compared to other projects the company has undertaken.
The white building, a garage-like structure, was at one time used by the Speck's auto dealership and sits across an alley from the Daily Sun News building.
Bridgeman said the church's ultimate plans are to demolish the block building, as well as an adjacent metal building that was at one time a car wash.
"We're going to put a fence up and put in a lawn where the building is now standing," said Bridgeman.
He said the church at one time used the building as a carpenter shop for a youth ministry. But he noted it has been awhile since the church has used the one-story white building.
"We weren't using it anymore and didn't want to put any money into it," Bridgeman said.
He said the church's hope is to improve the look of the neighborhood and utilize the lawn as a park and for church functions.