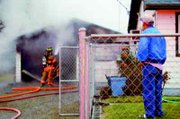 The Sunnyside Fire Department had its hands full this morning at about 7:30 a.m. with a garage fire in the 400 block of West Edison Avenue.
The fire, according to Battalion Chief Lloyd Hazzard, is believed to have been caused by electrical wiring to a stereo that was located within a room of the garage.
Hazzard said it took approximately 10 minutes to extinguish the fire, which caused an estimated $7,000 damage to the garage and $3,000 to the contents.
Seventeen members of the Sunnyside Fire Department responded to the fire, including both paid and volunteer members.
The fire department was on scene for approximately two and a half hours, to ensure the blaze was completely contained.
As of press time, Hazzard stated the owner of the garage was still unknown to him.