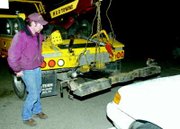 For some occupations the winter months are some of the slowest of the year. Not so for Doug Porter, owner of M&D Towing in Sunnyside.
"I hardly have any spare time at all," Porter said. "You can't goof. I'm always gone."
Porter recently took over the business full-time after his partner left the area to start another towing business. Now it's just Porter and his three part-time employees. He's on call 24 hours a day and said he hasn't had a day off since he started the company in the summer of 2005.
A typical day in Porter's life starts with a wake-up call, usually from AAA. He has a contract with the travel firm and his coverage area runs from Richland to Grandview. He said people with AAA+ can be towed 100 miles if their car breaks down. This increases his area when he picks up AAA customers.
"Sometimes I can spend all day in the Tri-Cities just doing AAA calls," he added.
Porter also does a lot of towing for local dealerships and their service departments. Porter was recently in The Dalles picking up a vehicle for a local dealership. He's even been asked to go to Seattle.
The long drives aren't too bad. Porter has decent stereos in his three trucks so he and his drivers can pass the time listening to music while they drive. He also has a CB radio he spends time on.
"It's pretty cool," he said.
Porter said he takes his job seriously and doesn't like to keep his clients waiting.
"When I get a call it's all about getting there," he said. "They're out there on the freeway where it's cold and dangerous. Or it could be hot and dangerous."
Porter said there have been many times when motorists won't use the passing lane as they go by but stay in the shoulder lane.
"Cars are whizzing by and some crowd you," he explained.
He's been afraid for his life more than once and even had to jump out of the way of a car he thought was too close.
"You can never tell," he said.
Besides the AAA and dealership calls, Porter is also on the police rotation. This means he will tow cars for the Washington State Patrol, Yakima County Sheriff and all of the police departments of the Lower Valley. He also has his regular customers that look him up in the phone book.
When Porter is not towing he is in his office, located at Ninth Street and Yakima Valley Highway, trying to catch up on a mountain of paperwork. Outside his office are several cars that have been impounded. Porter waits for the owners to show up to get their vehicles out but sometimes they don't do that.
After 25 days of waiting Porter can auction the cars off to try to cover the towing and storage costs.
"If I can cover the two costs I'm lucky," he admitted.
"I'm not doing this to get rich," he continued. "I want to make a good living working for myself and pay my bills."