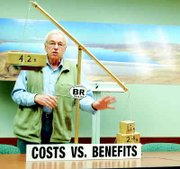 YAKIMA - The Black Rock water reservoir proposed north of Sunnyside may cost $4.2 billion to construct, but it will bring in more than $6.6 billion in benefits.
That's according to research figures released yesterday by the Yakima Basin Storage Alliance (YBSA) during a press conference at the Yakima Chamber of Commerce building.
Supporters say Black Rock would store water obtained from the Columbia River-meeting the demand for water-and could also serve as a recreational site.
At the same time, they say, fish habitat would benefit since water would not have to be diverted from the Yakima River.
The alliance conducted feasibility studies to examine the economic and recreational potential of Black Rock.
Sid Morrison, YBSA chair, said the federal Bureau of Reclamation asked the alliance to provide research information to supplement its own.
Under federal guidelines, for example, the bureau is restricted to consider recreational benefits limited to tent camping.
The financial numbers crunched yesterday go well beyond bunking down in a tent, and likely exceeded the bureau's expectation.
"I think they were shocked," Morrison smiled. "They were silent on the other end of the phone."
According to figures from a study recently compiled by Portland-based Mitchell Nelson, Black Rock will reach a value of $6.68 billion for its first 20 years, based on recreation and energy resources alone. Morrison said the dollar figures represent net present values reflected in today's market and do not include potential financial benefits related to fish and irrigation.
Research numbers from the study show that Black Rock would generate $2.9 billion in residential and resort development, $2.43 billion in energy sales and $1.28 billion in travel and recreation.
The study envisions a master planned resort with more than 20,000 housing units-ranging from "vacation cottages" to "trophy houses"-developed over a 40-year period, or just over 500 per year.
Black Rock holds promise as a recreation site, the study says. Possible recreational development around the reservoir could include marinas and parks.
Morrison said Black Rock's energy source could include wind power as a way to keep from drawing the reservoir down too far during the summer.
"Mitchell Nelson noted that to maximize the recreational value we need to rethink the pumping operation plan," the YBSA said in a released statement.
In turn, the alliance has hired Energy Northwest from the Tri-Cities to evaluate the pumping scheme for Black Rock.
On Monday, Jan. 8, the YBSA will hold another public meeting at 2 p.m. in the Yakima Convention Center to receive more detailed research information from both Mitchell Nelson and Energy Northwest.
The research was funded by the Port of Sunnyside, as well as Yakima and Benton counties.
Port of Sunnyside Manager Amber Hansen, for one, can't wait for Monday's meeting.
"We've always been a supporter of Black Rock and the reasoning behind it," Hansen said. "The (research) results are very encouraging."