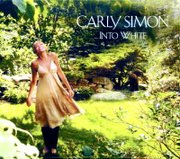 An album of classic standards sung by a pop artist from the 1970's is nothing new.
Carly Simon, whose "Into White" was released this week, is no exception.
Simon has recorded four collections of standards, but with "Into White" she turns a blend of classic covers and folk songs into a family album of soothing lullabies.
Produced at her husband Jimmy Hart's studio, "Into White" features accompaniment by Simon's two children-Ben and Sally Taylor-that she had with former husband James Taylor. One of Taylor's songs, "You Can Close Your Eyes", is on the CD, as well.
"Into White" ranges from American folk songs-including "Oh! Susanna" and "You Are My Sunshine"-to popular songs from the 1960s, such as the Beatles' "Blackbird" and the delicate "Scarborough Fair."
Simon's voice seems to resonate the most on "Blackbird". In liner notes provided with the CD, Simon calls the song her favorite on the CD. "I am that blackbird," she writes. "I am trying to take my broken wings and learn to fly."
Each song on the CD receives similar treatment in the liner notes, as Simon describes her own feelings and memories associated with the songs.
As a result, "Into White" is much more than a collection of music, but a rare peak into the private musings of the artist.
Some of the songs on "Into White" were recorded in just a few minutes and others were included almost as an afterthought. Such was the case with "You Are My Sunshine." Simon admits it was a surprise to have the song on the CD, noting she was singing it to herself during a break in recording.
It's a good thing the song was included. It provides a nice take on an American classic.
The notes also reflect a refreshing candor, Simon credits the contributions from two people, then apologizes for forgetting their last names.
There are times when the personal, family approach to the music may seem sappy or indulgent to some.
I winced when Simon compared her son and a fellow song writer to Lennon/McCartney, but the sentiments for the most part are well-placed.
Above all else, "Into White" is a reflective compilation, inviting the listener to join Simon-who surged to stardom in the 1970s with hits like "Anticipation" and "You're So Vain"-in taking a moment to pause, to rest.
The CD lacks a slick, polished sound. Not that Simon and company aren't professionals, but by not being overproduced, "Into White" brings an intimate immediacy.
There are moments when Simon's voice seems to falter slightly, such as on "Scarborough Fair" and "Over the Rainbow", but I suspect it's because of the emotion she has brought to the music. Those moments also make the sound seem even more personal.
If you're looking for peppy music to get your morning moving, then this probably won't be your first pick.
But for peaceful music to contemplate life and love-or to bring the day to a close and a smile to your face-then "Into White" is a good choice.
"As I listen to this record, I like to think this is the kind of music grown-ups like me can definitely get a little bit weepy over," Simon writes. "But probably by the first two or three tracks it will lull you to sleep as it is meant to do. Therefore, you won't notice if you have tears on your pillow."
You heard it from the artist, herself, "Into White" is a snoozer.
If that's the case, then here's to sweet dreams.