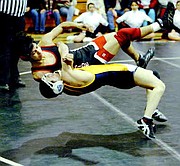 The Sunnyside Grizzlies made a strong comeback at last night's wrestling match with the Southridge High School Suns but lost in the end 31-27.
It was the league opener for both clubs.
The Grizzlies lost the first three matches to start from behind 12-0.
Sunnyside's Eric Meija (130 lbs.) lost to Phillip Cowin 20-5 to start things off.
At 135 pounds, Sunnyside's Tomas Pena lost a close one in overtime to Bret Arnsberger 6-4 when he was taken down in the sudden death round.
"That was a match we expected to win," Sunnyside Coach George Paulus said. "He ended up losing, which proved to be one of the nails in our coffin."
Down 8-0, Baltazar Avalos lost a major decision to Southridge's Carter Boyce (140 lbs.).
"Boyce is fairly tough but we didn't think he'd score a major decision," Paulus said.
Danny Alvarez (145 lbs.) gave Sunnyside its first win of the night when he beat Tamrich Perez 9-4.
"He was ahead of Perez the whole time," Paulus said of Alvarez. "This is his first year wrestling and it's exciting to see him develop."
Down 12-3, the Grizzlies scored their second win when Zeke Galvan (152 lbs.) beat Giovani Pina 7-3 to cut the lead to 12-6.
Jesus Mendoza then lost to the Suns' Austin Didier (160 lbs.) 16-12.
'Mendoza came back in the third round to take the lead but then lost it just as quick," Paulus added.
The Suns' Ben Robles (171 lbs.) then pinned Juan Galindo in 52 seconds.
Freshman Danny Almeida (189 lbs.) then lost to Chad Longaker from Southridge 6-2. Almeida gave up a five-point takedown that proved to be the difference in the match.
Jose Barajas (215 lbs.) then gave Sunnyside its first pin of the night when he beat Shawn Benjamin in eight seconds.
"That's the fastest pin I've seen in 25 years," Paulus said. "I can't recall a faster pin since the school record of five seconds."
Anglelo Salazar then brought Sunnyside closer when he pinned Evan Fields (285 lbs.) in 1:21 to make the score 24-18 in favor of the Suns.
Steven Romero (103 lbs.) followed, beating the Suns' Ely Garza 10-6 to improve to 17-3 on the year.
His brother, Isaac Romero (112 lbs.), then received a forfeit to improve his record to 19-0 and give Sunnyside a 27-24 lead.
Southridge came back to tie the match at 27-all when Tyler Cowin beat Ricardo Rivera (119 lbs.) 5-3.
"The match was decided by two stalling points," Paulus explained.
That set up the showdown with Sunnyside's J.T. Gonzalez and Jake Muse in the 125-pound weight class. Gonzalez had pinned Muse last week at the Hanford tournament but struggled last night.
After two rounds the score was 2-1 and after a couple of timeouts to clean cuts to Gonzalez, he ended up letting the match get away from him in the third round and lost 14-3.
"They're going to meet each other again," Paulus predicted.
Sunnyside (0-1, 2-3) will next travel to Kamiakin Tuesday, Jan. 9, for a 7 p.m. meet.
"It was a good match," Paulus said of last night's meet. "It came down to the end."