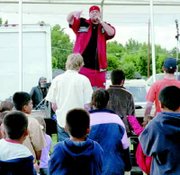 PhatCat, AKA Chad Turley of Sunnyside, has joined with other artists on the Soul Purpose.
PhatCat's first date on the tour was in Salt Lake City in mid-December. He will continue touring with Seize, Waslyk, Conte, Markillo Allen and Scoob Serious starting Jan. 27, in Spokane. The tour will take them to Seattle (Feb. 11), Sacramento (Feb. 17), Kennewick (Mar. 3) and finally Atlanta (Apr. 14).
"We have six shows lined up and if they go well more will be added," Turley said. "We have some cities that are interested."
The tour, sponsored by Visualize Music, is giving people the opportunity to hear PhatCat's music.
"It's exciting," he said. "It could turn out to be something big or just six shows."
PhatCat said he and the other artists on the tour are working on a compilation CD and it should be available in two weeks.
Turley is also working on a Christmas album for next year.
"All profits from the CD will be donated to charity," he said. "I haven't picked the charity yet, though."
Turley said he is also working on his third solo effort.
"I'm always working on something," he added.
The soon-to-be released compilation CD will be available on his website, www.catzcutz.com, soon. The website has just been re-tooled.
"I had to freshen it up," he said. "The other one was about three-years-old."
People visiting PhatCat's website can get bio information on the Christian rapper, news about him and what he is doing, pictures to download and all of his music.
A video for his song, 'Zombiez' is also available on the site. The video was shot in Granger. Another video for the song, 'Prayaz Club,' will soon be available. This video was shot at the Cutting Edge Youth Center in Kennewick.
Also new to his website are links to various groups and websites that can help people in times of need.
"If anyone is struggling with anything from addiction to depression they can find numbers to talk with folks," he said. "It's a lot more than just music, it's a ministry."
PhatCat's most recent release, 'Behind Tha Mask,' has sold more than 200 copies.
"It's not going as fast as I had anticipated but it's not too bad," he said. "We're trying to get more local shows."
'Behind Tha Mask,' and his first CD, 'Cloudy Dreams,' are available at Songs of Praise in the Yakima Mall and at Hasting's Record store in Kennewick, as well as on his website.
"We've been having a great time," he said of his recent recordings and tour.