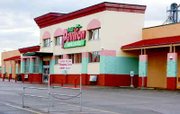 So far there are no takers for the Food Pavilion building in Sunnyside, which closed late last year when Brown and Cole Stores filed chapter 11 bankruptcy.
But that doesn't mean there isn't interest in the property, located at 615 Yakima Valley Highway.
That was confirmed yesterday via telephone by Sue Cole from Brown and Cole's headquarters in Bellingham.
The bankruptcy, and ultimate closure of the Sunnyside store, resulted from competition brought by Wal-Mart, as well as other market factors such as salaries and health insurance benefits.
In a press release issued in November 2006, the chain's president, Craig Cole, said Brown and Cole employees are paid "50 percent" more than Wal-Mart and "more than doubles" Wal-Mart's commitment to employee health care.
Sunnyside City Manager Bob Stockwell said the Food Pavilion store closure here cost the area jobs, but does not represent a major loss to the city in terms of sales tax revenues.
"That's because two-thirds of the items they sold were not taxed," Stockwell said of the fact that sales tax is not assessed on food items.
"It's not to say that we weren't sad to see them close," Stockwell said of Food Pavilion. "It provided jobs."
Prior to closing the Yakima and Sunnyside Food Pavilion locations, Brown and Cole also shuttered four large stores in the Tri Cities and Arlington areas.
Since the Sunnyside store's closure, there have been some nibbles of interest in the Food Pavilion building from a variety of retailers.
Associated Grocers is one of the owners of the Brown and Cole Stores chain and is looking for another retailer to take over the current Food Pavilion building lease, which runs through August 2009.
Dale Chandler, director of supermarket development for Associated Grocers, said both local and national businesses have expressed interest in possibly leasing the store building.
"We never close the door on any opportunity," Chandler said.
Among the interested parties to date are two national clothing retailers and a local durable goods business looking to expand.
Associated Grocers leases the Food Pavilion property for $24,107 a month from building owner John Young of Spokane.
Chandler said Associated Grocers would like to lease the building out for at least that much, but there is room to negotiate below that figure.
"We've had discussions with the owner and there's a willingness to compromise," said Chandler.
If Associated Grocers can't find a business willing to lease the entire Food Pavilion building, Chandler said there is a possibility of breaking the store front up into smaller shops.
"When we're first starting out it's optimal to try to lease out the whole building to one business," Chandler explained. "But if we haven't leased it after three or four months of marketing, then we take an imaginary pencil to see what it would take to split the building up."
Chandler said Associated Grocers is about 30 days away from taking just that step by hiring an engineer to draw up preliminary plans for subdividing the store.
He indicated that some retailers have already expressed interest in leasing out portions of the Food Pavilion building.