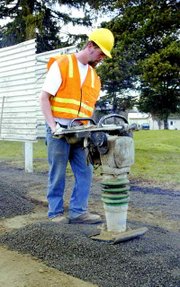 The Sunnyside Valley Irrigation District (SVID) is replacing an old irrigation mainline on Harrison Hill.
The work is being done on Grandview Avenue between Taylor and Owen streets.
"This is just a short project," said Ron Cowin, an engineer for SVID.
Work on replacing the antiquated wood stave pipe started Dec. 18 and is expected to be finished by Jan. 10 or 11.
The Christmas and the New Year holidays, as well as gas and water lines, which have forced some hand digging, have slowed down the project. There will be 360 feet of 24-inch PVC pipe laid to replace the older pipe.
The wood stave pipe was originally laid by the now defunct Snipes Mountain Irrigation District. Cowin said he didn't know when the original pipe was laid but said it was probably sometime back in the 1930s, possibly even earlier.
"The wooden pipe was in bad shape and needed to be replaced," Cowin said. "We've had to patch leaks in the past."
He said SVID likes to do most of their repair work in the winter when the irrigation water isn't running through the system.
"We try to do a project on Harrison Hill every winter," Cowin added.