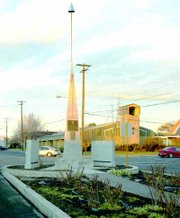 The first phase of the anticipated renovation of the Jerry Taylor Veterans Memorial Plaza should get underway this spring, according to Greg Schlieve, American Legion Memorial Chairman.
The memorial, which will stretch from Edison Avenue to Franklin Avenue on Ninth Street, will require approximately three to five phases to be completed.
"The first phase we'll put up two granite walls, refurbish the flag pole and the circular curb around it, and install lighting," Schlieve said.
The granite walls will be five feet by five feet and have images of the USS Arizona memorial, the twin towers, the Pentagon and the Pennsylvania field where United Flight 93 went down on 9/11.
Plaques honoring veterans are being sold for $300 and these will be placed on the granite walls. Schlieve had originally planned for the walls to hold 40 plaques each.
"On Veteran's Day we were short three plaques when I put the word out," Schlieve said. "At the end we sold way more than three. All of a sudden we had 92 ordered, which was too much for the planned two walls."
Schlieve said he had to change the plans to put 50 plaques on each wall instead of the original 40.
The city of Sunnyside gave its approval last March but he said he needs to give them a more detailed plan of the memorial and has yet to complete that.
"We will work on that this month," he said. "We need to show how the memorial will be completed in phases."
The memorial will be approximately 400 feet long with two walls spaced every 40 feet. This will allow for more walls to be added in the future when needed. There will be benches spaced between the walls for people to rest on.
Phase one of the project should be finished sometime in the middle of summer 2007.
"Once the project is complete it will be a very impressive memorial," Schlieve said. "There probably won't be anything like it in America."
Anyone wanting to buy a plaque for themselves or a veteran, or just wants to donate to the memorial, can reach Schlieve at the VFW by calling 837-3482 or at his home at 882-4498.