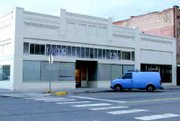 GRANDVIEW - Brothers Mike and Jon Bren have purchased the old Quicktel building in downtown Grandview and efforts are currently underway to transform it into a community center.
Hometown Enterprises, LLC, owned by the brothers, purchased the building from the City of Grandview in early December.
One of the driving factors behind the purchase of the building, said Mike Bren, is the fact that Grandview lacks a place for receptions, meetings, conferences or any other type of event where wine can be served. "So I thought it'd be an opportunity to buy the building, fix it up and make it available to the community," he said.
The building isn't without family history. Bren's grandfather opened a Gamble store in the building in 1943, which sold auto parts and accessories, as well as appliances. By 1945, Bren's father moved to the area and started working with the elder Bren. They worked together there until they opened a new store, which currently houses Valley Auto Parts in downtown Grandview. Shortly following the move, the business sold, Bren's grandfather semi-retired and Bren's father got into the insurance industry.
The brothers bought the building for $75,000 and the revamping process is currently underway.
In the back, the brothers are planning for a banquet room, which will feature an area for caterers to set up shop, as well as small stage area and small dance floor. The decor will be transformed into a Tuscany theme and the building will be known as "The Vineyard."
The Grandview Rotary Club currently uses the building for its weekly meetings.
The Vineyard, located at 150 Division Street, should be available for use by February, Bren said.
More like this story