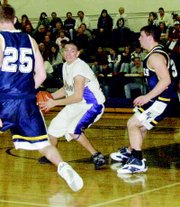 After three straight losses the Mabton Vikings boys basketball team got a much needed boost this past weekend, going on the road to defeat the Cle Elum Warriors on Friday night 63-37, and then beating the Naches Valley Rangers at home on Saturday 41-37.
At Cle Elum, both teams shot well in the first quarter from the field and from behind the three-point arc. After one quarter the Vikings held a small advantage, 16-14.
"Cle Elum did an outstanding job in their offensive sets in the first quarter," Mabton Coach Brock Ledgerwood said. "We adjusted and disrupted that flow by picking up the defensive energy when we switched to a full court zone press to start the second quarter."
Mabton continued to shoot well in the second quarter and its defense held the Warriors to just eight points in the period. Tyler Herrera gave Mabton a 10-point lead just before halftime with a three-point shot.
The Vikings kept up the defensive pressure in the third quarter, outscoring the Warriors 17-8 for a 17-point lead to start the final period.
"As a team we emphasized rebounding both offensively and defensively all week," Ledgerwood said. "That paid off as a majority of our points in the pivotal second and third quarters were a result of offensive rebounds or fast breaks off of defensive boards."
The Vikings out rebounded the Warriors 30 to 22 and shot 70 percent (7-for-10) from the free throw line. Mabton shot 50 percent from the three-point line (12-of-24) as well.
Juventino Morfin hit four of those three-point shots, three of them in the first quarter, to lead the Vikings with 16 points and four assists. Eric Tellez also had 16 points on 4-for-4 shooting from the three-point line. Herrera added nine points and five assists for Mabton and Frankie Smith had nine points as well.
Kurin Simplot and Tyler Tate each had nine points to lead the Warriors.
"I was pleased with the effort we gave on a long road trip in the snow," Ledgerwood added. "Our bench played more minutes than usual and they kept up a high level of intensity for 32 minutes."
On Saturday night at home the Vikings had a more difficult time with Naches Valley but still found a way to win.
"We played solid team defense for 32 minutes, which kept us in the game," Ledgerwood explained.
The Vikings jumped out to a quick lead in the first quarter, outscoring the Rangers 12-4 with their defensive effort, and then taking advantage of some transition opportunities.
The Rangers battled back in the second quarter, cutting the lead to two points, 17-15, before Mabton finished the period with a 4-0 run for a 21-15 halftime lead.
In the third quarter Naches Valley briefly held the lead until Mabton's Tellez scored two quick baskets to regain the lead for Mabton. The Vikings never trailed after that.
"I'm very happy with our defensive performance this weekend, especially our improvements on the boards," Ledgerwood said. "We may not be the most explosive offensive team, but if we can continue to hold our opponents under 40 points a night, we will have a shot to win even if we are not shooting well."
Herrera led the Vikings against Naches with 12 points, followed by Tellez with 11 points and seven rebounds. Morfin had seven points, three assists and four steals.
"This was huge to get two league wins to start off January," Ledgerwood said. "It is a long marathon to the district tournament, but it helps when you can get out of the gate quickly. It is important to keep pace with the league leaders so we can make our move for the playoff positioning down the stretch."
Mabton (3-1, 5-6) is currently in fourth place behind Granger (4-0), Highland (4-0) and Zillah (3-0). The Vikings will host Granger Friday, Jan. 12, at 7:30 p.m. and then travel to Highland Saturday, Jan. 13, for a 6 p.m. game.
"It is time for us to get back to work and prepare for Granger and Highland," Ledgerwood said. "They are tied for the league lead at 4-0 so we have a great opportunity to help ourselves out immensely this weekend. We must continue to play together and get better if we want to compete with the league leaders."