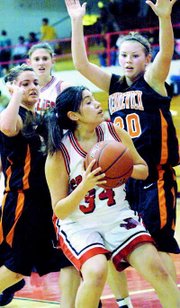 The Sunnyside girls basketball team had a slow start in a loss at home to Kennewick last Friday, but started strong in a home loss on Saturday to Hanford.
In the 64-37 loss to Kennewick, Sunnyside was outscored 22-7 in the second quarter on the way to a 33-13 halftime deficit.
"They did a good job of posting up," Sunnyside Coach Leo Gomez said of the guests. "They came out and just showed us that even though they're a class 3A team this year, they still play at a 4A level."
The Lady Grizzlies found more offense in the second half, but were still outscored 31-24 over the final two quarters
"We got some key baskets from Kayla Rollinger, who had eight second-half points," Gomez said of his team's improved offense in the second half. "Sarasa Partida also hit a couple of shots for us."
Gomez added, "We hung in there and still worked hard and hit the boards. I'm very pleased with my kids."
Kayla Rollinger had 11 points and eight rebounds to lead Sunnyside, followed by eight points from Partida and seven from teammate Shana Zamarron.
Alisa Sanchez and Kelsey Rollinger had five and four rebounds, respectively, to help Sunnyside in the paint.
The Lady Grizzlies' strong second half play on Friday carried over to the opening of Saturday's 56-34 loss to Hanford.
Sunnyside trailed just 15-13 after one quarter and was still in the game at the half, down 26-19.
"Our intensity was up in the first half," said Gomez. "At times we had the opportunity to score more baskets. We really played well off the bat."
The Lady Grizzlies were still within shouting distance after three quarters, trailing 43-32, but any hopes of a rally were quashed by a fourth quarter collapse.
Sunnyside scored just two points in the final stanza, on a pair of free throws, as Hanford held a 13-2 advantage in the fourth quarter.
"I don't know what happened. It really surprised me," Gomez said. "We couldn't make a basket. It was just one of those things."
Kayla Rollinger again led Sunnyside with 12 points and nine rebounds. Shana Zamarron tallied eight points for the Lady Grizzlies, and teammate Kim Wutzke added seven.
Sunnyside (0-3, 0-10) will try to get in the win column this Friday at Southridge.
"We're going to win a game here sometime," Gomez said. "Once we get a win, we're going to want to go out and get another one. I have patience with my players."
Gomez added, "We're still a very young team. Hopefully, Friday can be that first win for us and give us that kick we need."