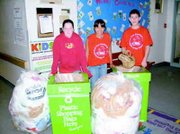 MABTON - Community members are being encouraged to save plastic shopping bags and help the Artz-Fox Elementary School students become regional recycling champions in the Wal-Mart Kids Recycling Challenge.
The students are collecting dry, clean plastic shopping and grocery bags, all colors except black, through March 30, according to challenge organizers.
For every 60-gallon collection bag the students fill, the school will receive $5, said Vanessa Cervantes, Artz-Fox School secretary.
"So far we have collected seven bags of shopping bags," she said. "Our goal is to become the regional champions collecting so many garbage bags, we earn an addition $3,000 for our school," she said.
The top 10 schools in this region to bring in the most collection bags will receive extra monetary rewards. Prizes are $3000 for first place, $2,000 for second, and $1,000 for third with $250 to be given to fourth through 10th place.
Anyone wanting to contribute old plastic shopping bags to the Artz-Fox "Kids Recycling Challenge" may leave them in one of the two large green bins located in the Artz-Fox Elementary School entryway.
The Kids Recycling challenge is designed to educate children on the importance of recycling and to reduce household waste.