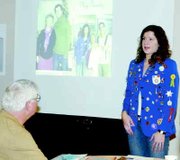 Laure Lanoes, an 18-year-old foreign exchange student from France, gave a presentation Wednesday morning to the Sunnyside Daybreak Rotary Club about her country and her plans after she's left the states.
Lanoes comes from the city of Chatellerault in central France. She told the Rotarians she graduated last year from high school. She came to Sunnyside as a Rotary exchange student because she has wanted to visit the United States for a long time.
"I wanted to see different things and improve my English," she said.
In France she said she liked to run and play basketball and spent her time reading, going to night clubs and watching movies.
She explained there are 61 million people living in France and her country has a variety of landscapes, from mountain ranges to pristine beaches, both warm and cold.
Lanoes said 75 million tourists visit France each year. Her country is the number one tourist destination, followed by Spain and the United States.
The schools in France and the States are different, she said.
"In France we choose sections to study in," she explained. "We choose science, economics or literary classes."
They also take between one and two hours for lunch each day because, "we take a lot of time to eat."
When she leaves Sunnyside and goes back to France, she will enter a special school to study philosophy, languages, literature, history and geography. She will then attend university after which she hopes to become a French language teacher in a foreign country.
"Maybe the United States or Australia," she said.
She showed slides of her family, Paris, the mountains and beaches of France and her hometown.
She said some of the industries in her hometown are aeronautics and making automobiles.