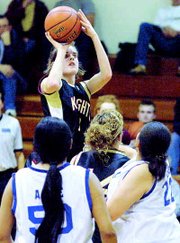 Working hard for every win is the policy of the Sunnyside Christian High School Lady Knights. Last night's game against Yakama Tribal in Toppenish was no exception.
"We pressed the first minute and played man-to-man the rest of the game," Coach Al Smeenk said in explaining the team's dominating 61-15 victory.
With 42 points on the board after the first half, Smeenk had the Lady Knights slow the game down during the second half. "We didn't want to run the score up," he said.
Smeenk had all 11 Lady Knights on the floor during the game.
He said the game was played hard with good defense. "We were in the passing lane when we needed to be," Smeenk said, adding "Rebounding was strong."
Melanie VanWingerden was the team leader in rebounds with a total of 10 boards during the game.
With no real leader in steals, Smeenk felt the Lady Knights played a well-balanced game. "There weren't any fast breaks, we ran every set play we had in the second half," he commented.
Smeenk was proud of the team effort he saw the Lady Knights put forth in last night's game. "They knew they had to play hard and everyone would play limited minutes."
The Lady Knights (4-0, 9-1) will travel to play Lyle, a 2B school, on Friday night.
Sunnyside Christian 21 21 8 11 -61
Yakama Tribal 4 2 4 5 -15
Sunnyside Christian: E. den Hoed 6, T. VanWingerden 17, B. den Hoed 8, H. Bosma 4, J. VanWingerden 3, M. VanWingerden 7, A. Schutt 11, E. Newhouse 5.