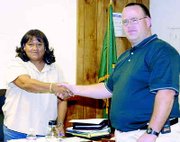 MABTON - The Mabton City Council last night approved a contract with the Yakima County Sheriff's Department to provide dispatch service for its police department.
The sheriff's department will provide telephone, radio communication and access service for the city of Mabton. The city currently uses the Sunnyside Police Department for dispatching services.
The cost of the contract will be $14,282 annually. The cost of each log line will be $1.05 with a projected number of log lines being 13,602.
The sheriff's department determined their cost to be $1.59 per log line for 2007 but deemed this increase would be difficult for Mabton to absorb and established it at the 2006 price. The sheriff's department does reserve the right to increase the rate if there is a dramatic increase in radio log lines.
That's a strong possibility as Mabton Police Chief Robert Perales handed out some crime statistics for council members to look at.
He said already in 2007 police calls have surpassed that of Granger's, which is a larger in population than Mabton by two-thirds.
Perales explained the increase is due to 24-hour police coverage.
"They are catching things out there," he said of his police officers.
Also at last night's meeting, Mabton Mayor Velva Herrera swore in Luke Cussins as the new Mabton Fire Chief. He takes over for Bill Roettger, who resigned his post effective Dec. 31, 2006.
Cussins is a lieutenant for the Spokane Fire Department and works there one day on with three days off. He has been with the Spokane Fire Department for 15 years and has been a captain in Mabton for, "longer than I can remember."
In other news, the council approved step salary increases for city employees. Step increases were put on hold due to budget concerns but were reinstated in the final budget deliberations.