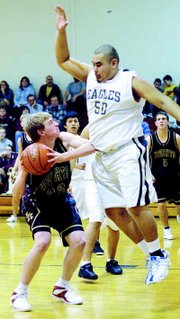 TOPPENISH - Despite massive substitutions throughout the game, including using his bench the entire fourth quarter, Coach Dean Wagenaar's Knights claimed a 105-27 win over the Yakama Tribal Eagles last night.
Tuesday evening's victory improved the Sunnyside Christian boys basketball team's league record to 4-0, 10-0 overall on the season.
Rarely used Andy Freepons, a 6'3" junior, made the most of his increased playing time and nearly posted a double-double against the Eagles. Freepons pumped in 10 points, one of five Sunnyside Christian players to score in double digits, and he scraped down a game high eight rebounds.
"Some pretty decent numbers for 12 minutes of playing time," Wagenaar said of Freepons' performance.
Also scoring in double figures for Sunnyside Christian were Aaron Van de Graaf with a game high 26 points, Lucas Brouwer with 15, Cole Van de Graaf with 11 and Marc De Jong with 10 points.
Yakama Tribal was led by Simeon Jim and Justin George with 6 points apiece.
Wagenaar said it was never his team's intention to run the score up over 100. "We stayed in a straight man-to-man defense all the way. We didn't run any traps or presses at all."
Sunnyside Christian continues its 'B' league schedule with a trip to Lyle this coming Friday, returning home Saturday for a conference game against Trout Lake.
S'side Christian 30 25 20 30 -195
Yakama Tribal 13 2 5 7 -27
FG-S'side Christian 39/64. 3-pt.-S'side Christian 10/20 (L. Brouwer 3/5). FT-S'side Christian 17/22, Yakama Tribal 4/6. Rbds.-S'side Christian 36 (Freepons 8, M. De Jong 7), Yakama Tribal 16.
Sunnyside Christian: Koopmans 8, Van Oostrum 3, C. Van de Graaf 11, Van Boven 8, J. Brouwer 2, M. De Jong 10, L. Brouwer 15, A. Van de Graaf 26, Friend 2, Meininger 6, N. De Jong 2, Freepons 10.
Yakama Tribal: Simeon Jim 6, Justin George 6.