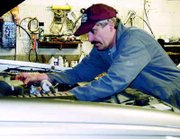 GRANDVIEW - It's not uncommon for folks about town to spot Frank DeBock zipping down to the auto parts store, back and forth, sometimes as much as 10 times a day.
DeBock owns DeBock's Auto Repair and has been working in the automotive industry for about 27 years.
He got his start at C. Speck Motors back in the day when it was located in the building that now houses the Daily Sun News. Since then, he went on to purchase his own business, DeBock's Auto Repair, located at 100 West Wine Country Road in Grandview.
"I've been here so long I almost forget what I did before," he jokes. DeBock's had his shop in downtown Grandview for 17 years.
He typically shows up for work by 7 a.m., Monday through Friday. But, as with any business, depending on the circumstances he sometimes finds himself in the shop at odd times.
In fact, last year, over New Year's weekend, the transmission went out on the Post Office truck. It simply had to get fixed, so that's how DeBock spent his weekend.
As far as flow, it just depends on the day. He has days where he finds himself at the shop for up to 10 hours, it just depends on how many vehicles he has to work on.
DeBock said it's satisfying to be able to figure out a problem right away, but he also enjoys the challenge of "having to figure it out."
Technology has had a significant impact on his business. Where he used to rely on mountains of books to help discover and solve a mechanical problem, he's now got a computer program that assists him with everything.
"(Getting the program) is the best thing I ever did," says DeBock.
The program assists with all makes and models, helps diagnose the problem, explains how to locate the problem part, shows the tools necessary to remove it, and even calculates part costs and labor. DeBock said this has been a huge time-saver in many respects, including the fact that he saves time by calling in the part number to a dealership.