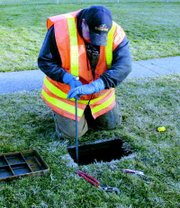 GRANDVIEW - Work has been underway this week to install high-tech water meters that will eventually save the city time and money.
According to Public Works Foreman Santos Trevino, employees have begun work in the east side of town, switching out manual reader meters with high-tech radio meters.
"This is a four-year process," said Trevino. "(At this time) we will have 1,200 meters in by May."
As early as February, Trevino said that it's expected that about 40 hours a month in manual meter reading time will be cut.
The new high tech gadgetry allows the meter reader to drive through a neighborhood with a lap-top computer that will automatically read the meters via technology.
And, adds Trevino, the new meters have "a bunch of special features."
First of all, if a meter has a continuous read, signifying a leak, the new meters will detect it and allow city employees to promptly notify homeowners.
The meter can also signal to workers that it's being tampered with.
Another feature the city didn't have access to before is that the new meters will detect if water is flowing water back into the city's water main.
Santos also said there's another feature that could be helpful for the elderly or infirm. "If we detect no flow for a couple of days, we'll be able to see if an elderly person might need help."
The new meters, he said, "Are a lot more accurate and accountability will be applied through this process. We'll have a better track of our water system."
By accountability and accuracy, he explains that sometimes, homeowners will dispute their water charges. Say, during the holidays, their water bill might increase significantly. "We have no way of knowing whether or not they have a huge family gathering for several days. This way, we can say, 'You used this amount of water at this time on this day,'" Trevino said.
Trevino said that the city's been putting money aside for this project and that, in the long run, it's going to save the city money. At this time, the city has invested $200,000 in the project.
Another way it saves is by eliminating repeat visits for manual meter reads. When it snows, the workers can't find the meters to read them. Or, if it's icy, sometimes they can't get the cement lid off of the meter. Other circumstances that cause a repeat visit for a read is when the meter is full of water, has dirt in it or a car parked on top of it.
Once the new technology is in use, the meter reader simply drives through the neighborhood, picking up all the elctronic data within a half-mile radius.